15 All-time best SEO Tricks and Techniques
Would you like to get listed on your website on the 1st page of the search engine?
As an SEO your most common and the natural answer is yes of-course get to the best Ranking in SERP's (Search Engine Result Pages) is a fundamental goal of any SEO.
Here below are the 15 all-time best & handy SEO Tips
All the fundamental Search Engine Optimization guidelines and primary SEO Tricks which can facilitate you to get High Ranking in SERPs as well as a good Return on Investment (ROI).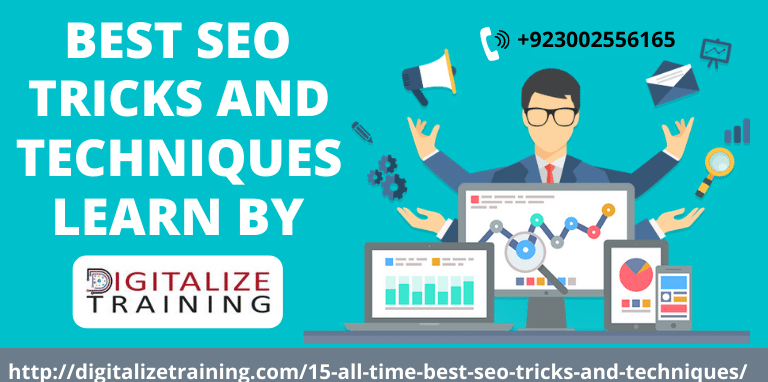 1st – You read this phrase much time in SEO Forums and Blogs "Content is King in Search Engine Optimization" Yeah this is right. Always create unique Quality Content instead of duplicating or copying someone's content. All Search Engines especially Google dislikes web pages and websites who have duplicate or copied content. No matter they found the duplication on the multiple pages of the same website.
2nd – Always keep your focus on Quality instead of Quantity no matter you are working at a slow pace but, surely, you will get the favorite ranking in SERPs if you follow this quality guideline of Search Engine. Never get backlinks from low quality / bad resources always focus on quality and relevance.
3rd – Keep the Design of your website according to your selected market / users and provide your users with good user experience. So in the Design phase of your website you don't only focus on the Bots of Search Engines.
4th – Because Google has a large share of online Traffic so keep your focus on Google first is a good practice but don't neglect other Search Engines also like Bing, Yahoo, and the regional Search Engine also if you are targeting a specific region like you must focus Yandex if you are targeting the Chinese market.
5th – Always be consistent in your working no matter that you get high ranking in SERPs, because your competitors are working consistently to beat you in the race of SERPs Ranking.
6th – Alas it's outdated when Webmasters and SEO's can cheat Search Engines and get High Rankings! Today's Search Engines are very intelligent and smart enough to identify the spam and punish the sites which are using black hat tricks and techniques to trick Search Engines.
7th – Do not pass over the value which you can get from Social Media Websites. Always comprise Social Media Marketing and Social Media Optimization in any of your Digital Marketing Promotional Campaigns.
8th – Build Links for your Website from High Authority, Good & Relevant free of spam blogs and websites. When you build a good link profile for your Website with getting Links from good and relevant websites it will eventually increase your PageRank!
9th – Give your Website the juice of Internal Linking with the Anchor texts that are most Relevant and Descriptive enough.
10th – Always utilize Google free resources like Google Places, Google Business & Google Maps, etc to get the free regional local traffic to your website.
11th – It's a Google Ranking factor to optimize your Websites for Mobile phones first because a large number of smartphone users who use Google Search Engine to research on daily basis and your Website displays correctly on Smart Phones just as like the Desktop users.
12th – As I mentioned earlier always write your own original & unique content, in case you are copying someone's content it's necessary to mention the detail of the original source in your content.
13th – Always use Headers tags when writing Heading in your Content and remember to keep the limit of Header Tags under the 4 Headers.
14th – Implement / Connect Google's Webmaster Tools also named (GSC) Google Search Console to monitor the performance of your Website as well as Ranking.
15th – Always Check Google Webmaster Tool / GSC daily to check backlinks count, fix broken links and other on-page errors of your website.
Are you still confused about SEO Techniques which included and not included in this list Get Professional SEO Training Now