Digital marketing conception has increased up fast rapidly in the last 5 to 7 years. It is a new way of doing marketing which opens the ways for those who hates traditional marketing conception like sales, door to door marketing, etc.
Digital marketing is the big pool where you have a lot of choices for your career like SEO, PPC, Content writer, SMO, SMM, SME, Internet marketing. Digital marketing is the big place where you can do creativity in SEO strategies, content writing & online marketing.
If you enter into the digital marketing world, (Search engine optimization) SEO is a good career after intermediate where you learn how Google search engine's algorithm works, how the search engine results appear when you search for something ABC, etc. Now coming to the point of your question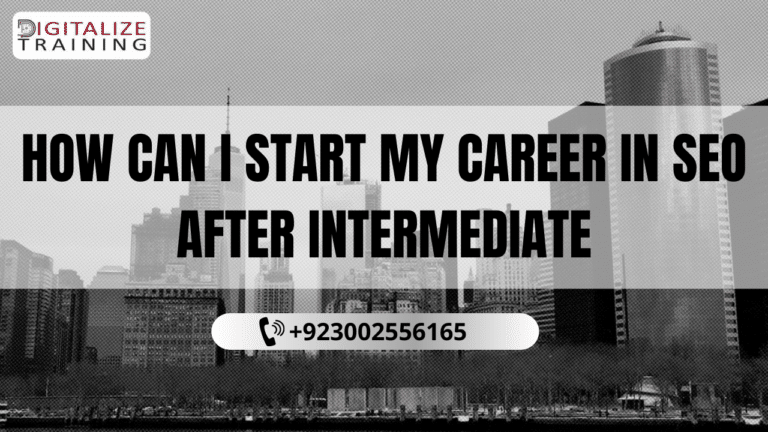 To start your career in SEO you need to read books of Different websites which are related to SEO guide, learn all Google algorithms like Webmaster, Ad Sense, Analytics, Adwords, Digital unlocked, Humming bird and Panda etc. or the best way is to join SEO Training from a well-known institute.
You can go for an internship after SEO Training and get a job in digital marketing company. Here you'll get better knowledge and insights into Search engine optimization. You can opt for digital marketing course but you need to spend some money as fees you need to be updated for Google's new algorithms, SEO tools updates. Also, you need to find out different strategies for SEO to increase your website which helping you to get a good result as compared to your competitors.
SEO is the career chooses after intermediate and has a bright future ahead as the internet grows up… Hope it might help you to a successful for SEO Career. If you want to learn SEO Technical training you need to Join the Search Engine Optimization Course, after training you will pursue your career in SEO.