Page Speed / Content Loading Speed
Page Speed or Content Loading Speed is the measurement of time that how fast all content of your Webpage Loads in a Web browser.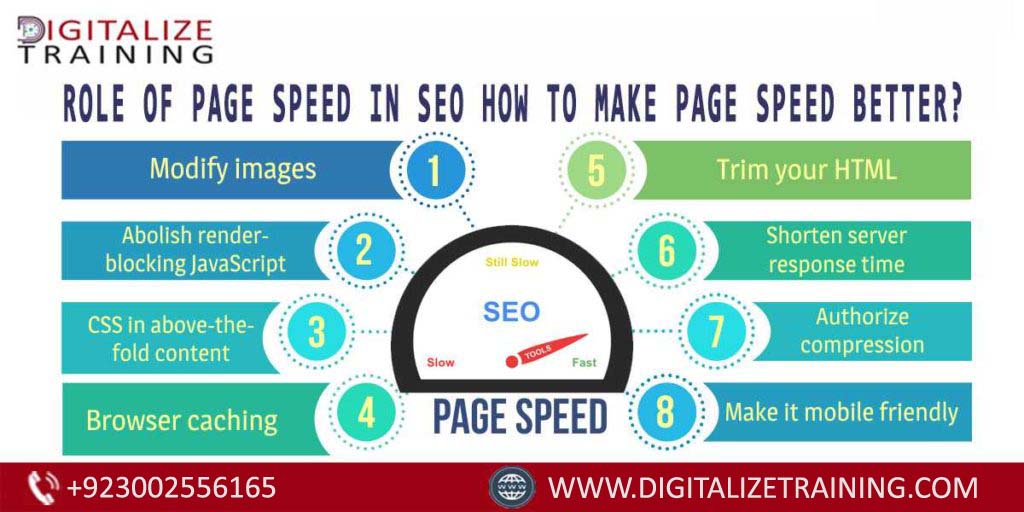 What indeed Page Speed is?
Peoples usually get confused with the "site-speed", actually the "Page Speed" is the time calculation that in how much time your Webpage takes to loads in a Web browser, it's also called (page load time), there is also one more thing to consider is that (time to transfer the first byte) means how fast a browser receive first of your page information from your Hosting company's Web Server.
Google introduced a tool to measure your page speed named Google's PageSpeed Insight this tool incorporates page speed data from CrUX (Chrome User Experience Report), this report consists of two important metrics in which first is Contentful Paint (FCP) and second is DOMContentLoaded (DCL).
Best Practices of SEO
Google counts site speed as one of its top ranking signals according to Google algorithms to rank a webpage. Various research proved that Google measures the time of the first byte which transfers from your hosting server to a web browser when he is considering page speed. One more factor to consider is that a slow page speed limits search engine crawlers to crawl fewer pages and it depends upon search engine allocated crawl budget for your site, and this limitation negatively affect your indexation process.
Page speed also matters most when it comes to user experience. If a Page takes a long time to load in the user browser, it generates a negative impact on the user's mind as well as search engines, and increases your bounce rate and affects your conversions.
Below we recommend some smart ways to increase your page speed:
Enable Gzip compression
Try to Use Gzip compression, it's a software application that compresses and reduces the size of your HTML, CSS, and JavaScript files which are over 150 bytes.
Remember always don't use Gzip compression on image files. Always use an image compression software like Photoshop in which you can compress the size of your images without losing the quality of the images.
Minify HTML, CSS and JavaScript
You always need to optimize your webpage's code using any minify tool, it will remove all the unnecessary things from your code like (spaces, commas and all other useless characters), and it will spectacularly increase the speed of your Page. It's also recommended to remove unused code, comments and formatting from your page code. CSSNano and Uglify are recommended by Google to do minifying.
Decrease the no. of redirects
Whenever a web page redirects to another web page, visitors of your website faces additional waiting time to load a web page due to the HTTP request-responses cycle to complete. Like you set the redirection pattern for the mobile version of your website to ("yourdoamin.com -> www. yourdoamin.com -> m. yourdoamin.com -> m. yourdoamin.com/home") any of these additional redirects increase the load time of your page and your page load slows in the browsers.
Remove render-blocking javascript
Almost all modern Web Browsers builds a DOM tree to parse HTML before the page can render in a browser, if a script comes across this rendering process, your browser will execute the script first and then load the page and it will surely increase your page load time.
Google's recommendation for blocking scripts is that a webmaster always avoids or at least use as minimum as possible JavaScript which is blocking the page to render fast.
Leveraging browser cache
Modern Web Browsers cache a lot of information in the user system's local cache like (JavaScript, stylesheets, images and much more) this helps your site to load faster when a visitor visits your website, again and again, the Web browser does not need to reload all elements of the page it took some elements from the user's local cache and loads the page fast. Here is a tool available named YSlow through which you can see the expiration date of your cache, except the design of your site changes frequently, to set the cache expiration period to 1 year is a good practice.
Make your server response time better
The time of server responding is based on the amount of traffic your site received, the sources use which a page use, software, hardware, and programs your server uses, and the hosting service you are using. You must be curious about logjams e.g: slow database queries, a slow routing or the memory of your hosting serving is not good enough. The best and optimal server response time is under 2 to 5 seconds.
Use a CDN (Content Delivery Network)
CDNs are the acronym of (Content Distribution Networks) with another technical named "Content Delivery Networks" these are servers who distribute the load time of content delivery. Essentially, these are the data center in different geographical locations that stores the copies of your Website and different geographical user can access your site fast due to a local copy of your site which is stored in the data center in their local region.
Always optimize the images
Always remember to optimize the images you are using on your website limit the images according to the size requirements of your website, and be assured that you are using the right format for different image files, normally the PNG files are best for graphics files who has less than 16 colors, and when it comes to use a picture (photographs) its good practice to use JGEP file format after compress it for the web.
Try to use CSS sprites when you want to create a template for images that you use repeatedly on your site for example icons and buttons. CSS sprites merge the images into a single large image that loads all the images at once and reduces the number of "HTTP requests" and through CSS sprites you can control which section of your site you want to load and display and which you don't. The main purpose to use CSS sprites is this it saves your load time and your site will load quickly in the user's browser.
Enroll in our SEO training course today to learn complete SEO (Search Engine Optimization) with 15 years plus experienced SEO trainers and understand all the professional tricks and tactics of advanced SEO.