Once you have successfully set up your account and linked it with Google analytics what's next now? Here you will learn the website Performance reports section available on Google Webmaster Tool.
Performance
In this tab, you can monitor and analyze what keywords/quires your website is ranked on Google. In the old version of Google webmaster, you can view the data of the last 3 months but in the new version, you can see the data for the last 16 months. Remember: The data is available from the day you set up your Google Webmaster / Search Console Account.
If you check the performance tab on Google Adwords account regularly, you can monitor your website performance easily and you can see what keywords or what page need more optimization. In the Performance menu, you can see different sections like "Queries", "pages", "Countries"," Devices", "Search Appearance" and "Dates". Each of these sections will show you the result by the numbers of "click", impressions', 'average CTR' or 'average position'.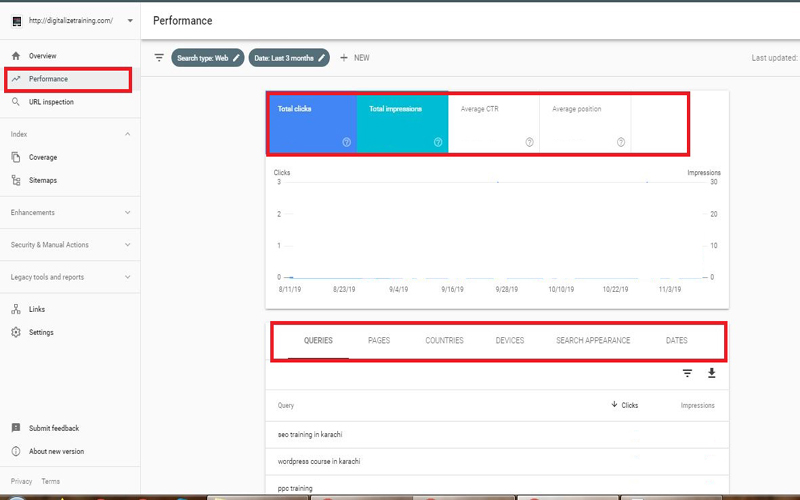 Clicks
The numbers of clicks will tell you how many users click on your website in Google Search Result Page. The number tells you the performance of your webpage meta title and description. If few users click on your website it means that your optimization is not good as compare to your competitors. You can type the same query on Google to check your competitor's sites.
Your website ranking also affects the number of clicks. If your website is on top 10 results on SERP then there is a more probability to get more clicks then the website present on the 2nd page of Search result.
Impressions
The impressions will indicate to you how often your website URL appears on the search result page but not clicked by the user. It will also tell you on what keywords your website pages are ranked and how many times our website is displayed on the search result page.
Average CTR
Click-through rate (CTR) tells you the percentage on how many times your website is displayed on the Google result page and also get click on it. Normally the higher ranking pages have higher CTR rates.
How ever, you can improve CTR by rewriting your meta title and meta description to make it more attractive and appealing. when your webpages meta description is more optimized and attractive it automatically increases the number of clicks. Keep in mind: Meta title and description do not play a big role in Website ranking. To improve your website ranking try something else.
Average Position
The average position tells you the average ranking of your WebPages for a specific keyword on the limited time frame you've selected. Yes, this position isn't ways stable, however, this average position justifies your CTR rates, impressions, and Clicks.
"URL Inspection Tool" in Google Search Console
The URL inspection tool is a diagnostic tool recently introduced by Google.
This feature allows you to submit individual pages to Google and fetch different pieces of information from the Google index.
Type and submit any of your website URL in the "URL Inspection Tool" to know when it was last crawled and the status of the page, if the page was index successfully, you can view all the detail about your page that found by Google.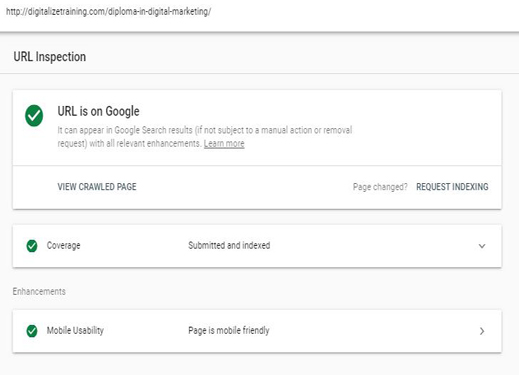 If the page is not indexed by Google you can see the reason and submit a manual request to index the page by clicking "Request indexing button"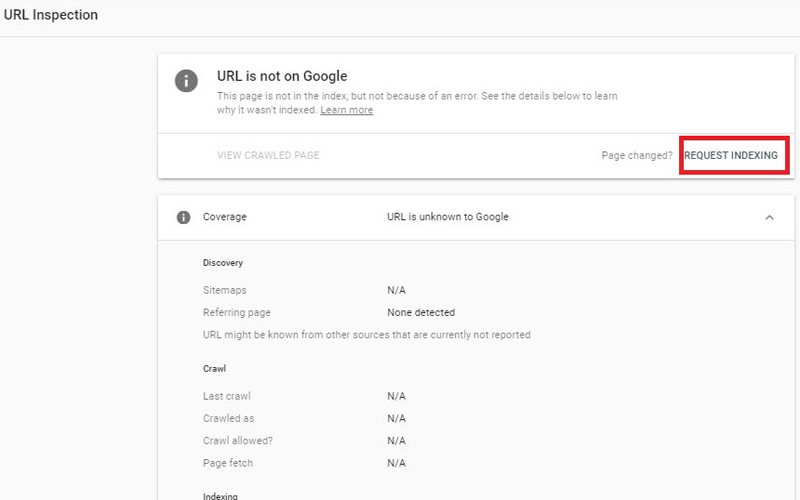 Index Coverage
The coverage tab found under the index section. It is a technical but important tab. This tab shows how many valid pages of your website are indexed on Google Search engine, How many pages aren't indexed, and what error or problems found by Google while indexing those pages.

The best practice is to check this tab regularly because it will help you to identify the problems that appear on your website. Normally Google also notifies you when it found new errors. When you get a notification by Google you can also check it in detail here.
Normally the error found by Google is redirection problem, broken links.
By clicking on the link you can check the error in more detail. Once you fixed the error you can mark them as fixed by clicking on the "Validated Fixing" button. Make sure that Google will inspect those URLs again.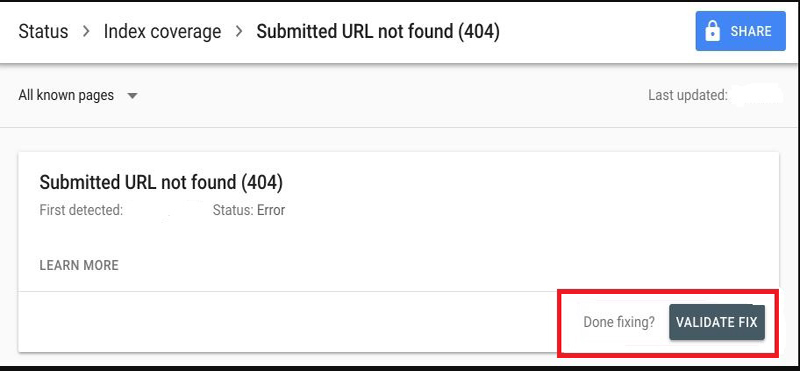 Following are some important factors that you should check while checking monitoring coverage report
If you're writing new content, your numbers of indexed pages should be increasing. This indicated you two things: Google can index your site and you keep your site 'alive' by adding content.
Check out the sudden drops! This might mean that something is blocking Google to index your webpages or Google facing hurdles to index them – maybe its "no-index" tag or Robot.txt file
Unexpected issues like duplicate or plagiarized content, wrong URL (such as both www and non-www, wrong canonicals, etc), automatically generated pages, or even hacks.
We advise you to check these types of problems and resolve them as soon as possible, to many errors could affect your website ranking and may cause de-indexing on Google.
Join SEO Training Course and increase your Website Ranking.