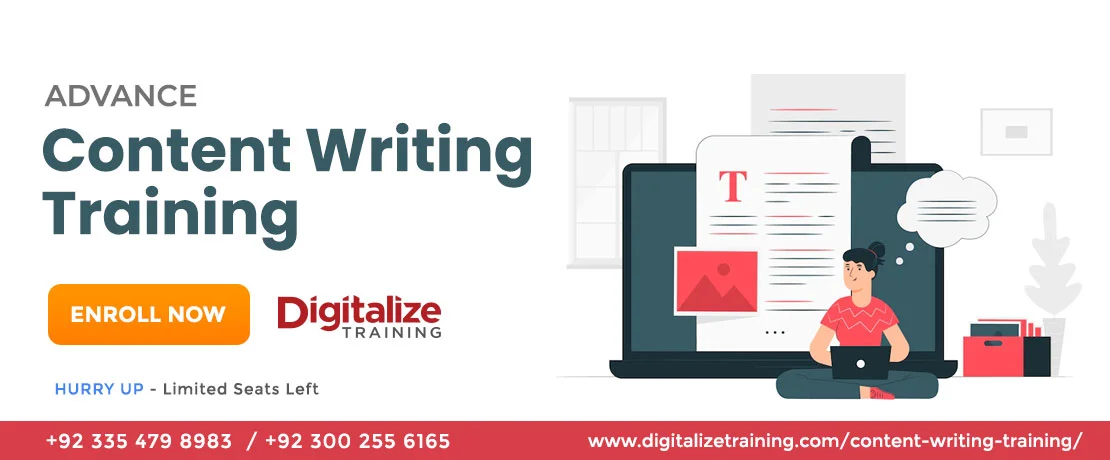 Best Content Writing Training Course in Karachi, Pakistan
Website Content Writing, Copy Writing, Blogging, and Research Writing
Content writing Traning helps you to Build a Career as Professional Content Writer
Be A Certified Content Writer and Start a Content Writing for Websites
Content Writing Training Institute located in Karachi, Pakistan
Content Writing & Blogging Course
 8 Classes In Weekend (Saturday And Sunday)
 Upto 2 Hours Session Per Class
 Content Writing Group Training Fees Rs 25,000
Nowadays content is the king and plays an important role to generate traffic on your website. One of the fundamental ways of a search engine to display a webpage is to check how relevant a webpage content is according to the user's asked query.  Users need relevant information in a correct and appropriate manner. So content writing is an art and many people think that writing website content is the most difficult task, but with the right approach and techniques, it's a lot easier than you think!
What You Will Learn in Content Writing Course With Certification & Blogging Course
However, it is also important how you attract visitors and show them the right path. No doubt websites play a crucial role for businesses but the content is the most important feature on the website to attract, to drive the traffic, and to get top organic ranking on search engine by the help of Content Writing. This Content writing training course will help you to create an optimized content that drives the traffic according to the client's and stakeholder's requirements.
In Content Writing training course, you will learn how to increase your writing capabilities regarding web content writing skills. How to balance the needs of users and write optimize content for search engine rankings. Besides this, you will learn professional content writing approaches with professional trainers. After successfully completion of SEO-copywriting training, you will be awarded a content writing certificate that will help you in your career and job hunting process and student will be eligible to write quality content for websites and earn handsome money with Content Writing freelance skill. Our Content Writing institute is located in Karachi, Pakistan. We do offer online and offline (In-class) Content Writing training. Enroll now!!
Who Should Take Up This Content Writing Training Course & Certification?
Content Writing training course is for those who want to improve good writing skills to write informative and effective articles for their own business blogs or for products and services that incorporate blogs.Content Writing course is for those who want to pursue their career as a Content Writer or Blogger. After completing Content Writing course student will be awarded with certification.
Content Writing Course Objectives
This course will help students to:
Develop creativity in their writing
Write unique and optimized content for websites
Write SEO friendly articles
Write content for marketing purposes
Write for Social Media posts and Search engine marketing etc
Content Writing Course Outline
What Is content
What is content marketing
What is the purpose of content marketing
Difference between content writing and web-content marketing
How to start your business with content marketing
Content strategy & challenges
Writing messages and creating Content
SEO content writing
Webpages title and meta tags
Push marketing in content
Blog content marketing
Importance of web 2.0
Generation of effective article topics
The role of articles in business blogs
Social media content marketing channels
Image content marketing
Content Writing Training, Courses & Certification