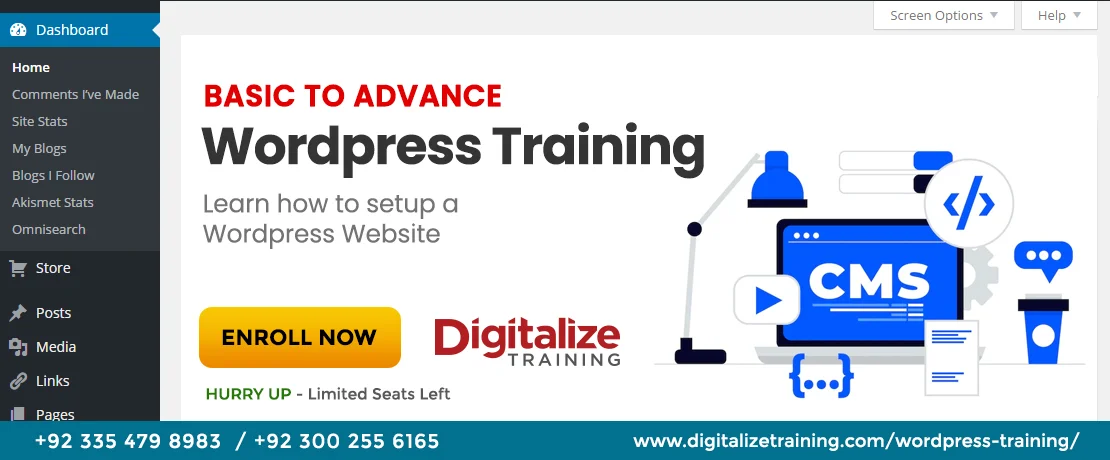 Wordpress Development Course & Certification-Be A Certified WordPress Developer
Wordpress Installation, Design and Develop WordPress Website & Publish Pages.
Wordpress Training Helps you to Build Career in WordPress Development
Be A Certified WordPress Expert & Create Stunnning WordPress Website Instantly
Wordpress Training Institute located in Karachi, Pakistan
WordPress Training Course
 6 WordPress Training Classes In Weekend (Saturday And Sunday)
 Upto 2 Hours Session Per Class
 WordPress Training Fees Rs 20,000
What you will learn in WordPress Development Course With Certification?
WordPress Development Training Course will help you to build all types of websites using WordPress. Don't worry if you are not a web developer or web designer or even you don't have technical background and skills related to web design and development. WordPress course is specially designed to make you an Expert WordPress Developer.
In This WordPress Development Course you will learn, how to install WordPress and configure it on a local server, how to design a WordPress theme, install the plugin, create an eCommerce & services base website, and publish images and posts with the open-source WordPress content management system.WordPress Development training program is designed by professional WordPress expert developers for beginners and professional those who want to build and manage customize and theme base website on WordPress or pursue their career as an Expert WordPress developer. after completing this WordPress Training Course you can start or run your own online WordPress website or get a job as a WordPress Developer. We offer both online and offline (in-class) Google WordPress Training. Enroll Now! Our WordPress training Institute is located in Karachi, Pakistan.
After completing the WordPress training course you will be awarded a WordPress training Certificate that will help you in your WordPress Development career and jobs seeking process.After taking WordPress training student will be eliglible to make his own WordPress website.
WordPress Development Training Course Outline
Module #1 – Setup And Configure WordPress
Introduction of WordPress.org
Uploading Your WordPress Files via FTP
Installing WordPress files
Signup/login into Your WordPress Dashboard
Module #2 – Administering WordPress, Theme And Plugin Updates
WordPress Dashboard Understanding
Understanding of Version, Release and Modification Updates
Updating Based on WordPress, Theme and Plugin Compatibility
Upgrading to the Latest WordPress Release
Module #3 – Making And Administering Posts
Categories and Tags setting
Title and Content Areas understanding
Publish area Configuration
Featured Image setting
Module #4 – Making And Administering Pages
Differences between Pages and Posts
Creation Basic Website Pages
HTML uses to Extend Page Content
Module #5 – Making and Administering Menus
First Menu creation
How to add Add Pages, Post and Categories to your menu
How to enable advanced menu options
How to Add Custom Links to Your Menus
Module #6 – Website Settings Configuration
General Settings Configuration
Reading Settings Configuration
Module #7 – Accessing Media Library
Width and Height Settings
WordPress Image File Creation
Default Month Year Folder Structure
Uploading and Managing Media Files
Module #8 – WordPress Themes And Plugins
How to select a Theme
Ways to Install and Configure a themes
Switching Between Themes
Adding Menu, Media and Content to a theme
Administering, Upgrading and Maintaining Plugins
Install and configure form plugin
Install and configure media library plugin
Module #9 – Administering User Accounts
Built-in User Accounts
Setting up User Security
Installing and Configuring a User Management Plugin
Merging and Deleting User Accounts
Module #10 – Comments And Discussions
Comments dashboard settings
Setting up and commenting user options
Administering website comments
WordPress Training, Courses & Certification