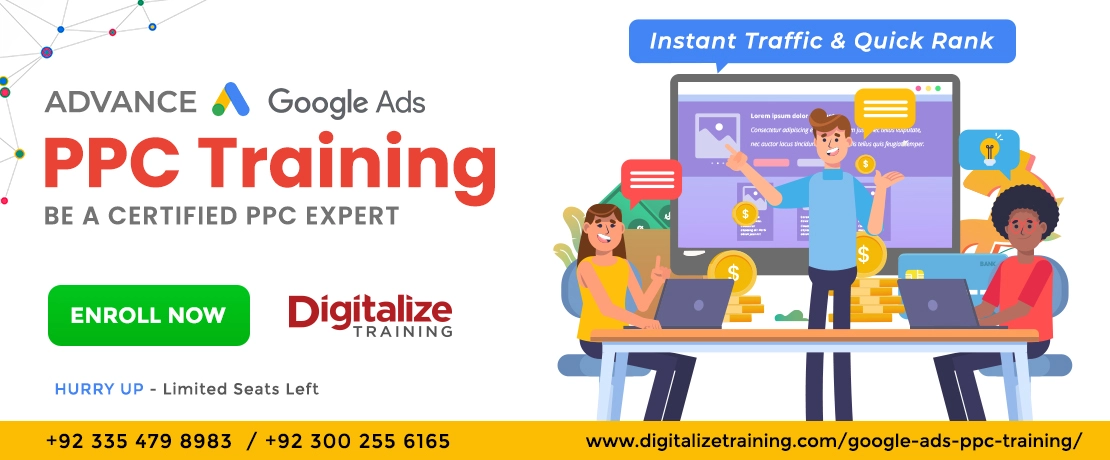 PPC Training Course in Karachi, Pakistan
Google Paid PPC Search Ads, Google Display Ads, Google Shopping Ads
PPC Ads Mastery Training Helps you to Build a Career in Search Engine Marketing
Be A Certified Google PPC Expert & Rank Website On Keywords Instantly
Get Admission in PPC Training Classes Today! - (In-Class or Online)
Basic Google Ads / Adwords PPC Course Include
 4 Google Ads PPC Classes In Weekend (Saturday And Sunday)
 Upto 2 Hours Session Per Class
 Google Ads PPC Group Training Fees Rs 20,000
Advance Google Ads / Adwords PPC Training Course Include
 8 Google Ads PPC Classes In Weekend (Saturday And Sunday)
 Upto 2 Hours Session Per Class
 Google Ads PPC Group Training Fees Rs 30,000
PPC Weekday Batch
Admission Open
Starting from Oct 9th, 2023
In-Class/Online
Duration: 04 Weeks
Monday & Wednesday
08:00 pm – 10:00 pm
PPC Weekend Batch
Admission Open
Starting from Oct 7th, 2023
In-Class/Online
Duration: 04 Weeks
Saturday & Sunday
11:00 am – 01:00 pm
PPC Weekend Batch
Admission Open
Starting from Nov 18th, 2023
In-Class/Online
Duration: 04 Weeks
Saturday & Sunday
03:00 pm – 05:00 pm
What is Google Ads PPC Paid Advertising?
It's a model of internet marketing in which advertisers will be charged for their Google ads/PPC to gain the paid traffic from search engines, in other words paid marketing purchasing paid clicks to your website. Search engine advertising is one of the most popular/advanced medium of Google Ads/PPC. It allows you to bid for ads in a search engine's sponsored links when anyone searches on a keyword that is related to their business offering.
Google PPC Certification Course for Beginners & Professional
Learn how to get start with Google Ads PPC program and create your successful campaigns to target most relevant customers and build your business. You will be getting targeted traffic on your keywords for your niche while they're searching on search engine. Get the basics of Google Ads PPC and more advanced strategies to compete your competitors with our Google Ads PPC course. This Google Ads PPC training course will cover everything from the beginning to advance, keyword research and strategies and more to  become a expert of Google Ads PPC mastery course.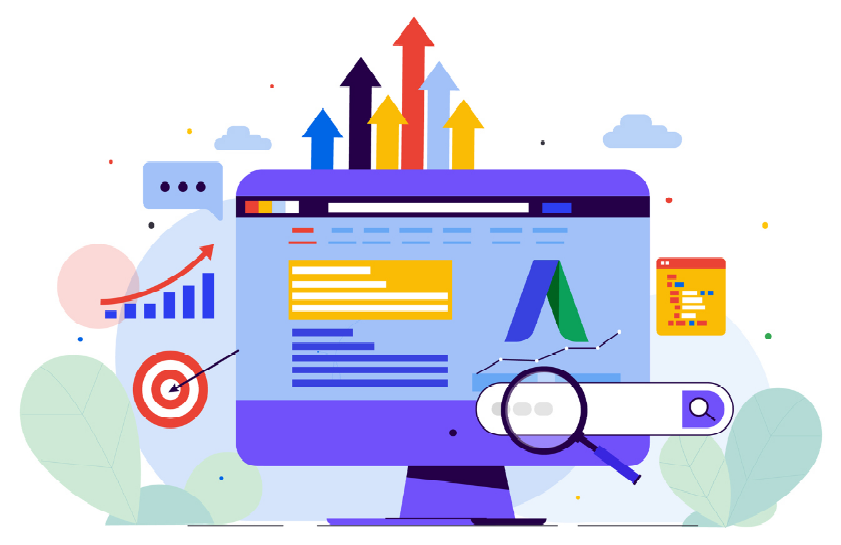 Learn Google Paid Marketing and Become PPC Expert
In this Google Ads PPC Course, here you will learn better and effective ways to run your PPC paid marketing campaign on B2C and B2B websites. Our Google Ads PPC course is designed by an experienced Google Ads Certified PPC Expert for Business owners, those who want to grow their online sales and website ranking rapidly or for beginners and professionals who want to build their career in the digital marketing Industry as Google Adwords PPC Experts.
Our PPC Training Course is a combination of theory and practice with case studies years of experience. After completing the Google Adwords Training program you will be eligible to create and optimize your Ads or company PPC campaign. This course will also help you to build result-oriented and ROI based advertisement campaigns.
In our Google Adwords Training, our professional Google Ads PPC trainer will share their experiences and best practices with you that will guide you the methodology of keyword selection, and effective and creative ways to write display Ads to improve quality scores and sales. Besides this how to use Google ads extensions and all other menu functions. After successfully completing of Google Adwords training Program you will be awarded a Google Ads certificate that will help you in your career and job hunting process Or you to find a relevant PPC Job as a permanent, intern, trainee, or freelancer, and give you a path to get success towards the managerial position. We also ensure you after completing this PPC Training you can start or run your own online PPC campaign or get a job as a PPC Expert.
Eligibility For Google Ads PPC Certification?
The Google Ads (PPC) training is beneficial for those who are looking to specialize in paid / aggressive marketing for faster results. Any professional looking to enhance their search engine paid marketing skills will get benefit from this course, however the course is useful for the following entities:
Business Owners
Entrepreneurs
Marketing Professionals
Freelancers
Graduates
Why choose Digitalize Training Institute for Google Ads PPC Certification?
"Digitalize Training" is one of the best Google Ads PPC  training institute in Karachi Pakistan, Here we are offering complete paid marketing PPC course where you get to learn Google ads PPC and rank your website on first page paid marketing. We offer business training that means skilled training to students, after completing of PPC Course student are eligible to offer services as PPC Expert, freelance PPC services to client and better job in market.
About Our Google Ads PPC Trainer
Among the top Google Ads PPC Experts, Naeem Rajani is one of the best "PPC Trainer and Consultant in Karachi, Pakistan. Besides Training he run his own software house and offering Google Ads PPC services. He is serving in digital marketing industry for over 16 years. PPC experts never get opportunity to work directly with clients but Naeem Rajani has a huge experience and deal directly with clients and builds big business for them. Hence, he is also engaged with teaching field and teaches students directly in his own Google Ads PPC institute and trained over thousands of student locally and internationally – campus located in Karachi, Pakistan.
What you'll learn?
Spend dollar on live projects for learning
Familiarity with the essential standards and running principles of bidding public sale
Learn how to create a strategy of bit adjustments and scheduling the ads to make a excellent profit.
Teach how to create/run successful campaign in small budgets
Get in touch with new Ads types in Google ads for your business
Understanding conversions and track how to boost your sales
Running campaign for E-Commerce website
Google Ads PPC Training Course Outline
PPC Training Lesson #1 – An Introduction to Google Adwords/Ads
What is Paid Marketing
Strengths of PPC
Introduction to Google Ads
Creation and Setup of Google Ads Account
Payment Methods
PPC Training Lesson #2 – Google Ads Functions
Types of Google Ads
Display Networks
Keyword Research Tools
Campaign Creation
Campaign Management
PPC Training Lesson #3 – Keywords Research and Display Ads
Keywords In-depth Analysis
Keyword Selection
Negative keywords
Bidding Strategies
Creation of Display Ads
Optimization of Display Ads
Landing Pages
Google Ads Extensions
Targeting location
Ad Scheduling
PPC Training Lesson #4 – Tracking and Reporting
Conversion Tracking
Report Generation
Conclusion
Google Adwords PPC Training, Course & Certification