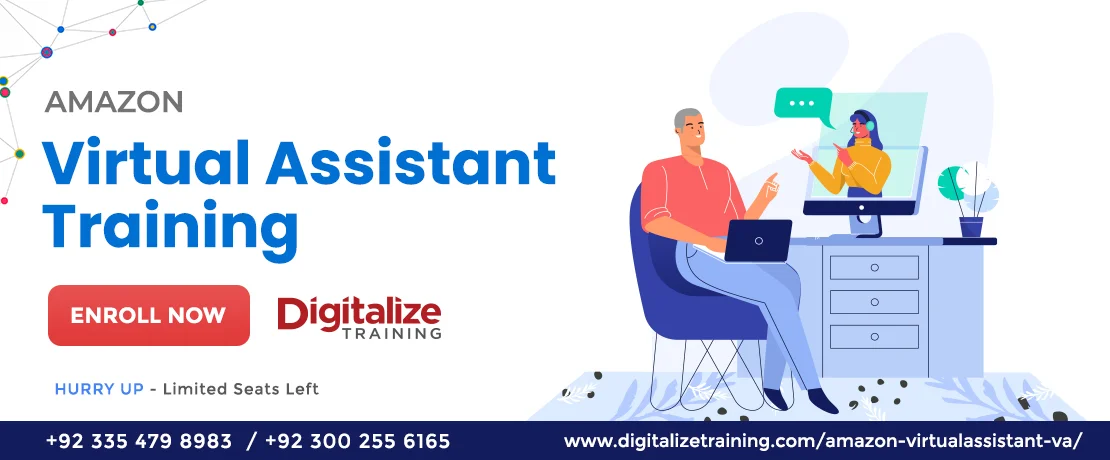 Virtual Assistance Training, Course in Karachi, Pakistan
Virtual Assistant Training Institute Located In Karachi, Pakistan
What is Virtual Assistant
A virtual assistant or (VA) is someone who provides administrative and technical support to your business online and offsite. Amazon VA comes with an arrangement of skills and undergoes serious training. They perform multiple tasks to help save your time so that you can grow your Amazon business.
Virtual Assistants for Amazon can do their jobs from any remote location and fulfill clerical and transcript roles online for their clients. However, Amazon stores and business owners can hire VA from an extensive range of locations.
Amazon virtual assistants could be from anywhere across the professional, business, academic, technical, and support sectors. Most virtual assistants work with different clients from across the country they live in or from around the globe.
Signup & Manage Fiverr Account as a Virtual Assistant
Introduction of Fiverr platform
Account Set-up and registration
Creating profile and gigs
Gigs hunting and ranking
Keyword researching
Manage reviews
Order management
Understanding content writing & Re-Writing
Deal with Fiverr support, fixing problems
Communication skills with clients and support
Answering queries
Create and Manage freelancer.com / upwork.com Accounts
Freelancer.com & upwork.com Introduction
Account registration
Payoneer account setup
Professional profile creation
Membership subscriptions
Reviews Building
Explanation of freelancing future
Projects browsing
Bidding / Proposal submissions system
Clients handling conversation
Payment withdraw options
Dispute handling
Contacting customer support