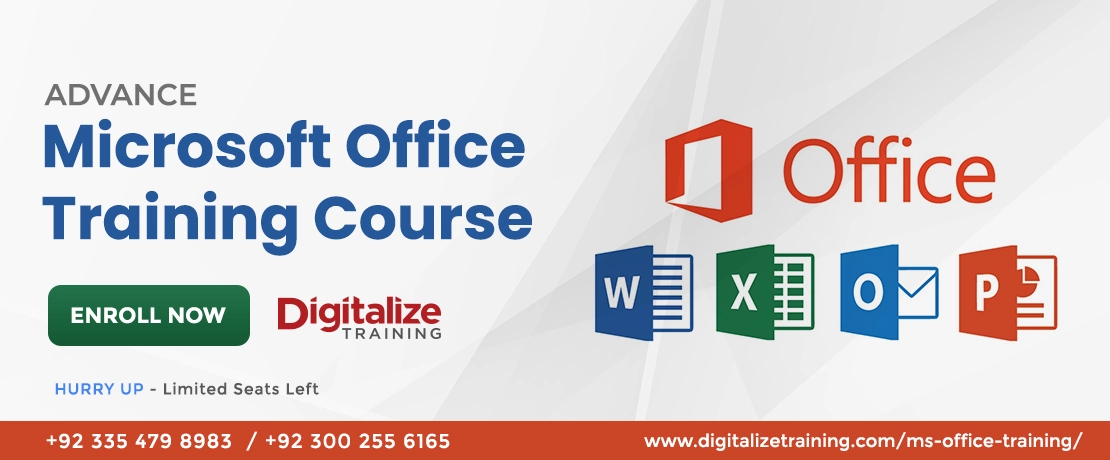 MS Office Course in Karachi, Pakistan
MS Word Training Course in Karachi, Pakistan
Advance MS Excel Training Course in Karachi, Pakistan
MS PowerPoint Training Course in Karachi, Pakistan
Microsoft Office is the most commonly used software in the world. More than 1.2 billion people across 140 countries and 107 languages use MS office. No matter how talented you are or an expert in any field, if you have the knowledge to play with MS office then your life is much easy. Yes, this skill is mandatory for every student & professional either you have to create your resume, presentation, planning on a project, to manage inventory, to play with formulae and number or etc. The more you know about MS Office the better ease you get.
MS Office Course in Karachi
1-MS Word
2-MS Excel
3-MS PowerPoint
Good news for All – On demand of our students and usage of MS Office Digitalize Training offer Specially Designed Complete and module wise MS Office Training course- that will help you to be an MS Office Expert. After completing MS Office course student will be awarded with MS office certification and will be eligible for data entry job.
MS Office Training Course Outlines

MS Excel Course Outline
Organizing data
Analyzing data
Use subtotals
Advanced filters function
Group and outline data
Use data validation
Create and modify list ranges
Add, show, close, edit, merge and summarize scenarios
Perform data analysis using automated tools
Create PivotTable reports
Create PivotChart reports
Use Database functions
Trace formula precedents, dependents, and errors
Locate invalid data and formulas
Watch and evaluate formulas
Create different formula
Define, modify and use named ranges
Structure workbooks using XML
Formatting data
Formatting content
Create custom data formats
Modify custom data formats
Conditional formatting
Format and resize graphics
Format charts
Format diagrams
Protect cells, worksheets, and workbooks
Apply workbook security settings
Import data into Excel
Export data from Excel
Publish and edit Web worksheets and workbooks
Create and edit templates
Consolidate data
Define and modify workbook properties
Customizing Excel
Customize toolbars and menus
Create, edit, and run macros
Excel default settings

Microsoft Word Course Outline
Content formatting
Creation of custom styles for text, tables and lists
Pagination
Format, position and resize graphics using advanced layout features
Insert objects
Modify objects
Create and modify diagrams and charts using data from other sources
Sort content in lists and tables
Implement calculations in tables
Table Modification w.r.t formats
Use Automated tools for document summarization
Document navigation Using automated tools
Merge letters with other data sources
Merge labels with other data sources
Collaborating &Formatting Documents
Create and modify forms
Add, insert, delete comments
Create and modify document background
Create and modify document indexes and tables
Insert and modify endnotes, footnotes, captions, and cross-references
Creation of Master documents and subdocuments
Modification of Master documents  and subdocuments
Modify track changes options
Publish and edit Web documents
Manage document versions
Protect and restrict forms and documents
Attach digital signatures to documents

MS PowerPoint Course Outline
Creating Content
Create new presentations from templates
Selecting different backgrounds
Insert and edit text-based content
Insert tables, charts and diagrams
Insert pictures, shapes, and graphics
Insert objects
Format content
Formatting text-based content
Format pictures
Format shapes
Format graphics
Format slides
Apply animation schemes
Apply slide transitions
Customize slide templates
Track, accept, and reject changes in a presentation
Add, edit and delete comments
Compare and merge presentations
Managing and Delivering Presentations
Organize a presentation
Set up slide shows for delivery
Rehearse timing
Deliver presentations
Prepare presentations for remote delivery
Save and publish presentations
Print slides, outlines, handouts, and speaker notes
Export a presentation to another Microsoft Office program
For Course Registration and Admission
Call: 0335-4798983 / 03002556165
Email: [email protected]
Chat: Live Chat Now / Whatsapp
Office Located:
A-08/A, Shelozon Center, beside Allied Bank, Block 15 Gulshan-e-Iqbal, Karachi, Pakistan – Postal code: 75300
MS Office Training, Courses & Certification