What is Guest Posting?
In simple words, a guest post is a blog post or article that is written by someone or a guest audience from outside the website, they normally publish an article to win some of the traffic or link from your website. Guest posts are normally written by content writers, journalists, contributors, or bloggers and they try to publish their posts and articles – this work is also known as a publication. Guest blogger has no ties with your website they just add a citation or link-making to get more attention or link juice to their website.
Guest posting and blogging are content marketing that comprises writing and publishing articles on third-party websites/ blogs. Guest blogging is a mutual benefit for publishers hosting guest content (as it helps to engage their audience) and guest bloggers who get an additional platform to promote their brand. Typically, guest bloggers write content for websites and similar blogs related to their industry in order to:
Increase brand awareness, exposure, and personality
Bring traffic for the website and generate leads and conversion
Build relevant backlinks and improve search engine authority
Why guest posting is so essential: Here you don't have to pay anything, even guest blogging doesn't get paid for a certain number of texts. However, at the bottom of the article you get links, the bio of the author, and social media popularity. This helps to establish his authority in the field, lets readers learn more about his background and experience and of course, drives traffic to his website and social pages.
Benefits of Guest Posting
Boost brand awareness
Make a name for yourself as an expert
Increase meaningful traffic to your site
Improve your domain authority
Open the door to new business opportunities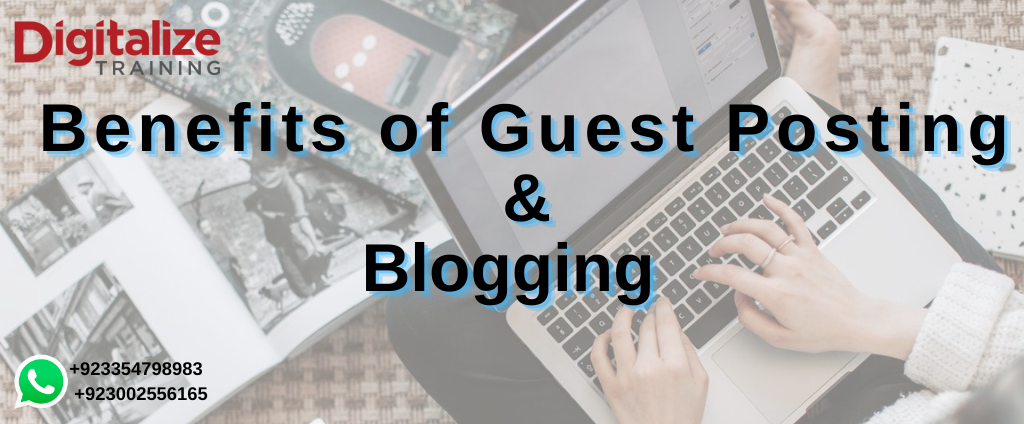 Tips for Finding Opportunities in Guest Posting
Look into your favorite blogs
Do a Google search
Write for us
Google blogger wonted
Guest blogging guidelines
Analyze your competitors
Check domain authority
Tips for Pitching "Guest Post Submission"
Keep track with a spreadsheet
Familiarize yourself with the website's content
Review the guest post guidelines

Word count
Style and voice
Recommended blog formats
Topics they're looking for (or not looking for)
Examples of popular posts on their site
Image specifications (when relevant)
Rules for linking
Publication standards

Come up with a unique pitch
Write and send your pitch email
Best Practices Used in Writing Guest Posting
Write a strong bio
Spend extra time on your headlines
Proofread several times
Write with intention
Follow up after the post goes live
Make time for guest blogging every month
Review your analytics
Email Subject Lines for Guest Blogging Outreach
The most common and popular subject lines for an email in outreach are as below
Great content ideas for your blog
Upcoming guest post ideas for [Blog name]
Free high-quality articles for your blog
Guest post proposal
High-quality guest post request
Review these 3 blog post ideas for [Blog name]
Guest post request for [Blog name]
Let's discuss your new blog post
Next blog post for [Blog name]. Leave the hard work to me
I've prepared something special for your blog
I've got something special for your blog. Check it out!
Looking for an awesome blog post? We've got it!
Something special for [Blog name]
Feed your content-hungry blog
Provide value to your subscribers with this blog post
You haven't covered this topic, right?
No one has blogged about this on your blog. Am I right?
Exciting stuff for your blog
Templates and Examples of Guest Posting and Blogging
Email Sample #1
Hey [Name],
I've got a great idea for a post that I believe would do well on [Blog name]. Are you looking for more contributors to write for your blog right now? If so, I'd love to send some original content your way.
I'm already writing regularly for [Blog name 1], [Blog name 2], and [Blog name 3]. Here are the few of my latest posts:
[Blog post link 1]
[Blog post link 2]
[Blog post link 3]
Let me know if you are interested – and I'll send you some topic ideas.
Thanks,
[YOUR SIGNATURE]
Email Sample # 2
Hi [Name],
This is [Your name] from [Company name], and I'm dropping you a line to see if you're accepting new guest bloggers. I write about [topics] and thought an article about [relevant topic] would be a good fit for your blog.
Here are some examples of my latest guest posts:
[Blog post link 1]
[Blog post link 2]
[Blog post link 3]
The post will be 100% original, written just for your blog, and will not be posted elsewhere. I would appreciate an author bio with a live link back to my site. If you're interested in this cooperation, please get back to me.
Thanks,
[YOUR SIGNATURE]
Email Sample #3
Hi [Name],
[Your name] here from [Company name]. I'm reaching out to check if you are accepting content from guest contributors on [Blog name].
We are trying to establish ourselves as a helpful, trustworthy brand, and we think the best way to do that is through quality content. We've already been featured in some respectable publications like [Example 1], [Example 2], and [Example 3], just to name a few.
If you do publish content from guest authors, I would love an opportunity to be one of them. Here are some topics that I could cover:
[Topic 1]
[Topic 2]
[Topic 3]
I don't mind discussing additional topics if you don't think these are a good fit for your audience.
Looking forward to your thoughts,
[YOUR SIGNATURE]