SEM stands for "Search engine marketing". It is used to increase website traffic through paid marketing. Previously, the term "SEM" was used for both search engine optimization (SEO) and paid marketing (PPC) but now it is only used for paid marketing.
---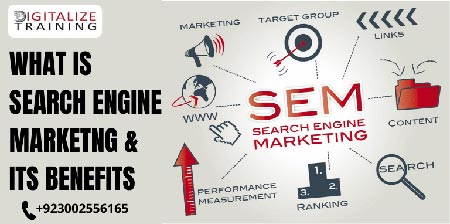 ---
While using search engines, we normally use SEM or paid search for paid listing. Here we will define what SEM is.
Paid Search Ads
PPC (Pay-Per-Click)
PPC (pay-per-call) – Paid ads served to mobile users, charged by the number of clicks performed by the user, and it results in a direct call from the user's Smartphone's
Paid Search Advertising
ROI (return on investment)
CPC (Cost per click)
CPM (Cost Per Thousand Impression)
Normally, mostly used paid ads are PPC and CPC, but some ads are also CPM base.
SEM Basics:
If you are a beginner, then to need to understand the structure of Google Ads (previously known as Google AdWords) it is a tool used for Google Paid Marketing. Google Ads is the most popular paid marketing platform, Followed and powered by Bing ads, and also serves as an important part of Ads on Yahoo. Social media channels are also second-tier PPC platforms.
Furthermore, while seeking the common paid marketing search trends, you can find out the PPC training course offered by Digitalize Training where you learn how to start paid marketing, different tricks, tactics, and strategies to get succeed in PPC ads.
Every platform has specific guidelines and useful tips so that you can easily understand them. SEM helps you to get quality traffic on your website from the first day.
Social Media websites like Facebook, Instagram, LinkedIn also offer paid advertisements. So now the questionaries that these social media websites are also part of SEM? Because these sites also include a search function. But remember SEM and social media advertisement and different things
In social media websites, paid marketing ads normally appeared based upon data that is collected by the social media platform. It always helps you to meet with your targeted audience as per their interest, location, gender, age group, etc.
Comparatively Search engine marketing depends upon the search queries asked by the users on search engines like Google, Bing, Yahoo, etc. Social media advertising and SEM aren't the same. But to effectively increase brand awareness and sales, you can use both platforms.
In order to get the best results, you can also use SEM, SEO, and Social media marketing all together for getting the quick and best results. Don't know what is SEO? Here is an example for you: When a user searches for "How to learn SEO", Google uses an algorithm to select which web page has the most relevant answer according to the asked query and show the best results. Google ranks the pages according to how relevant it is and how well the optimized page it is.
Google and other search engine aim are to show the best results, what exactly you are looking for should be displayed at the top of SERP (search engine result page). SEO is all about getting a higher ranking for a website so that Google can determine that your website has the best solution, product, or services according to the asked query.
To understand SEO in Detail, Join SEO Training.