There are nearly 3 million active sellers on Amazon In 2020 according to research. As per Seller Report, we know that almost all Amazon sellers using different methods for finding success on Amazon. A main key difference among Amazon sellers is the fulfillment method they choose, Fulfillment by Amazon (FBA), and/or Fulfillment by Merchant (FBM). 
Almost all Amazon sellers (94%) sell using Amazon FBA, and a third (34%) use Amazon FBM. Broken out, Amazon sellers sell:
FBM only: 6%
FBA and FBM: 29%
FBA only: 66%
---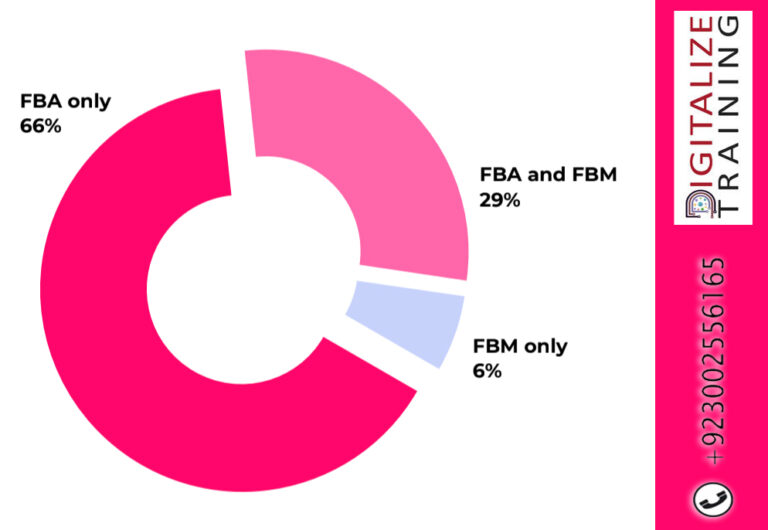 ---
We'll have a look at the major differences between these two fulfillment methods, including which is more profitable and requires more experience, also the factors you should think about when choosing to sell on Amazon FBA either FBM.
Difference Between Amazon FBA and FBM?
Fulfillment by Amazon (FBA) a method of selling on Amazon in which a seller or supplier sends their products directly to Amazon's warehouses to store. Amazon then stores the product inventory and ships it directly to the customers often through Amazon's two-day Prime shipping service. They also deal with customer support.
Fulfillment by Merchant (FBM) a method of selling on Amazon in which a seller lists all products on Amazon, but setup all storage, shipping, and customer support by their own or through another third-party.
Which one should sellers use?
Small businesses or at-home sellers for both major brands with intricate supply chains, all types of Amazon sellers can profit from both Amazon FBA and FBM fulfillment methods. But how would you choose which is the right method for your business?
First, consider your sales strategy:
Private label: create your own product label or brand
Retail Arbitrage: buying discounted products through retailers to sell on Amazon store.
Dropshipping: buying products directly from a product manufacturer who fulfills the order and ships directly to the customers.
Wholesale: buying products directly from a brand like Alibaba or from distributors with extra stock in organize to sell on Amazon
Handmade: creating/crafting your own products to sell on Amazon
Online Arbitrage: buying discounted / sale products online to sell on Amazon
There are a few key factors you should think about before you select a fulfillment method on Amazon. 
Expenses and fees
Control of customer experience
Seller feedback
Inventory turnover rate
Logistics
Size and weight of the product
A short overview of which method you should use based on those factors.
---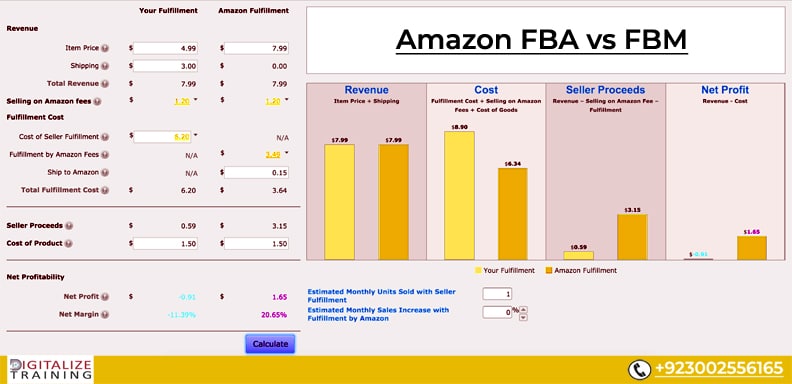 ---
You Should use fulfillment by Amazon (FBM) if:
Your inventory turns over slowly
Your excellent customer service practices are in place
You already have logistics in place
You want more control over your customers
The products you sell are oversized or heavy
You're able to mitigate the expenses involved in fulfilling your own products
You should use fulfillment by Amazon (FBA) if:
The products you sell are small and lightweight
You're okay surrendering control to your customers to Amazon
You want Amazon to handle your customer service
Your inventory turns over quickly
You do not have logistics in place
Your expenses would be higher if you fulfilled your own products.
Can the seller use both FBA and FBM method on Amazon?
Yes. In fact, research data indicates that 29% of sellers use both FBA and FBM. If you have a vast variety of products, you may consider using both to gain the benefits from the two. 
How do I ship products Prime with Amazon FBA vs FBM?
FBA and FBM both sellers can ship products via Amazon Prime. Prime is a plan Amazon offers its shoppers that reward them with advantage such as 01 or 02-days shipping. Prime sellers compete extra efficiently than non-Prime members, According to Amazon. Products lines that are fulfilled by Amazon are available for Prime benefits automatically. Although, products fulfilled by sellers are eligible if the seller is a part of Amazon's Seller Fulfilled Prime program. 
Control of Customer Experience
FBM sellers ship their own products, store their own products, and manage all of the customer services of Amazon sales on their own. However, sellers use the FBA method to store and ship the products and manage customer service on their behalf. FBA sellers hardly ever speak with their customers. That's a reason FBM sellers have better control over their customer's service and experience.