DIGITAL MARKETING:
In the 21st century, if we say that this world is becoming a digital world so everyone agrees with this statement. The increase in usage of the internet has changed many industries' marketing plans. A decade ago the medium of communication and transferring information was: newspaper, televisions, and radio which were also used as a marketing tool for industries, organizations, and enterprises to promote their business, but now the world has become digital, digital marketing becomes a need of everyone, that's why the demand of digital marketers is on its peak.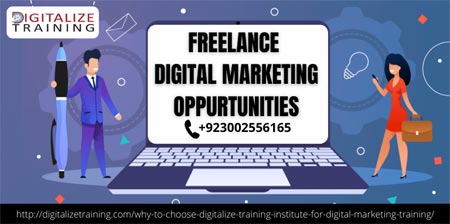 The digital industries are growing in multiple ways and giving opportunities to those who want to be digital marketers or freelance digital marketers. Constantly everyone is moving towards online businesses and more and more enterprises and businesses are looking for digital marketing experts to promote and increase their businesses and sales.
SKILLS REQUIRED TO BE A DIGITAL MARKETER:
To be a successful digital marketing expert, you need to acquire the following skills
Content is a king of marketing, relevant and optimized content is inevitable for websites. Quality content can attract the audience & build their interest. Words have the power to tell the story of products/services that you are promoting. There are Expert content writers for content creation but Digital marketing also needs this skill.
For business, social media is one of the best platforms for their brand promotion. Every business must have a social media presence for brand popularity. Popular social media platforms are Facebook, Twitter, Linkedin, Instagram, because in these platforms users spend most of the time and you can target them easily. Now a day social media marketing is at its peak and demand for social media marketers is high. Join social media marketing training now. A digital marketer also has his/her command of Social media marketing. Learn Complete Social media Marketing
Google Ads/Adwords also known as pay per click (PPC). After social media and other marketing platforms, clients also need paid marketing campaigns for instant traffic and sales on their websites. Google Ads is paid advertisement and companies, organizations and firms need a PPC expert who has a vast knowledge of paid marketing so that they can get good ROI (return on investment). Learn Google Ads PPC Training Enroll Now and be a Certified Google Ads PPC expert within a month.
SEARCH ENGINE OPTIMIZATION (SEO)
Billions of websites exist on the internet, to rank client's websites on top of the SERP (search engine result page) is the responsibility of the SEO Expert. Multiple tricks, strategies, techniques are used to optimize the website to drive more organic traffic and get top ranking on SERP. SEO is more technical than other marketing skills. To be an SEO Expert join our SEO Training course and learn on live projects.
HOW TO BE A FREELANCE DIGITAL MARKETER
Now as you know what digital marketing is and what skills required to be a Professional Digital Marketing Expert. Below are a few things you should know to be a successful freelance digital marketing expert.
As you know there are several services that digital marketers provide. To be a successful digital marketer you need to know in which service you are best. Provide few services whichever you like or have higher chances to get more clients. Make sure that the services you are providing, you have to satisfy your client with your work and build long-term relationships with them.
To excel in your skill, you might not need a degree but to be a professional digital marketer you need to take business training from professionals trainers in particular fields. it is a good practice to learn through the internet but to be an expert training is necessary.
You can improve your skills with your experiences. So keep practicing and learn the different pros and cons of it. The more experienced you are the more chances to get clients.
Working as a freelance digital marketer does not mean you are working alone, You need to attend different workshops, conferences and communicate with other freelancers to learn something new and beneficial from them.
To be a successful freelancer, you need to start providing services at minimum rates, once you start getting the experience, you can change the prices of your services as well.
There are multiples ways to get new clients as a freelance digital marketer.
Through a reference from friends, family, and clients.
By communicating with other digital advertising and marketing agencies.
Through freelance websites available over the internet.
Digitalizetraining also helps their students to get projects.
Learn Complete Digital Marketing Training and be a freelance digital marketer now