SEM ( Search Engine Marketing) is getting very popular and in-demand throughout the world, so today in Digitalize Training we are talking about the Scope of SEM in Pakistan in the year 2021.
The Scope of SEM in Pakistan has a bright future and huge opportunities, although the awareness is less as the interest of students in entrepreneurship is declining and the opportunity level in SEM marketing is increasing. Pakistan has massive good talent in these fields but unfortunately Pakistani mentors have not a good experience in SEM. There are top-rated digital marketing companies in Pakistan like Digitalize Training, Omni Academy & Naeem Rajani, Off-road studios if you get a training from institute you can learn top skills.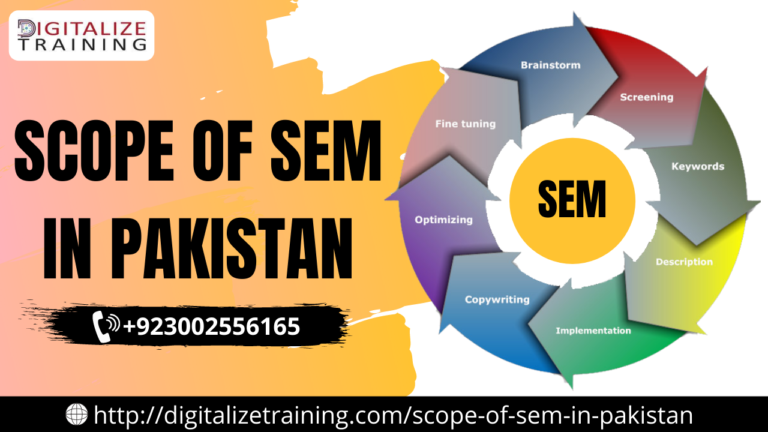 As well, a large quantity of outsourcing SEM marketing firms taking many big international clients projects in the USA, UK, CA & Australia, etc. and they are also playing a major role in the growth of Pakistan's economy. One example of fastest-growing digital marketing agency operating in Pakistan is Naeemrajani.com
SEM Job Opportunities in Pakistan
The majority of Search engine marketers in Pakistan are Earn 10 times better than the people who have been working in other fields. Everything is getting changed W.R.T Digital and AI, and SEM is the crust of both things, and currently is in high demand because every business wants to gain access to the Digital World.
Become a Digital Marketing Expert in Pakistan
For Businesses, they can hire Digital Marketing experts to grow their strategy on Content Marketing, Email Marketing, SEO, SMO, SEM, SMM, or Mobile Marketing.
For your career point of view, you can grow in the mentioned areas in Digital Marketing above to land yourself a great job in the industry. If you want to build your career in the field of Digital Marketing by joining Diploma In Digital Marketing and be a Digital Marketing Expert.