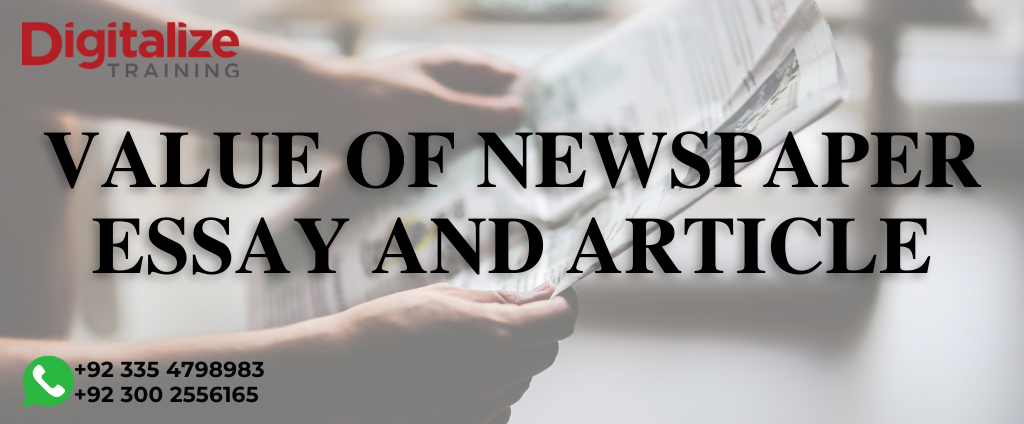 This article discusses different types of Values of Newspaper article that students and professionals can write. These Values of Newspaper Essay.
In the first Values of Newspaper essay, we will discuss the Values of newspaper article and the importance of NewsPaper reading. Reading newspapers have been a cornerstone of journalism for centuries, providing readers with timely and accurate information on a range of topics. From local news to international events, newspapers offer a valuable source of information and analysis, helping readers make informed decisions about their lives.
In the second Values of newspaper article. we will discuss the value of newspaper essay as Newspaper as a part of human society. In a world of 24-hour news cycles and social media, the value of newspapers is often overlooked. However, newspapers continue to play an essential role in informing the public and shaping public opinion. Through investigative reporting, thoughtful analysis, and diverse perspectives, newspapers offer a unique and invaluable perspective on the world around us.
Values of News Paper Essay #1
The importance of reading a newspaper cannot be denied. It is not wrong to say that without a newspaper life is as dark as a Sea- shore without a lighthouse; as dry as a field without rain; as barren as a river without water; as dull and miserable as a man without eyesight. Really a newspaper occupies a very important place in everyone's life in the modern civilized world. Backward are those who can afford and miss reading a newspaper. Let us start with the importance of reading a newspaper by a common man who works in an office or at any other place. Having read the newspaper a common man knows very well about the important events which are taking place around him. Through his newspaper, he can know the prices of consumer's goods, about train timings, etc.
A businessman cannot ignore the information printed in a newspaper. Only through reading a newspaper, a smart businessman can keep himself well informed. The trend of prices, the fluctuation in the markets, the positions of shares, and the balance sheets of different business concerns are daily published in newspapers. All leading English Dailies have allocated a separate page for the world of commerce and trade.
For an unemployed person, reading a newspaper is very useful. If a man is unemployed and jobless, then the will find a newspaper as his guide, his sincere friend, and a reliable companion. Every newspaper has columns for vacancies. Jobless people can go through these columns and can find out where the vacancies exist. They can apply to advertisers and can find jobs.
Reading a newspaper is a must for all those citizens who are interested in the welfare of the country. The newspaper is the window through which we can look into the surroundings of our daily life. Really we are ignorant if we do not read a newspaper.
Values of Newspaper Essay #2
Newspapers have been a fundamental part of human society for centuries. They have played an important role in informing people about local, national, and international events, as well as providing a platform for sharing opinions and ideas. The value of newspapers can be seen in several ways, ranging from their ability to educate and inform, to their impact on shaping public opinion and promoting democracy.
One of the primary values of newspapers is their ability to educate and inform. Through in-depth reporting and analysis, newspapers can help people understand complex issues and events. For instance, newspapers provide coverage of topics such as politics, economics, science, and technology, which can help readers make informed decisions about their lives. Moreover, newspapers provide a diverse range of opinions and perspectives on different issues, which can broaden readers' understanding of the world around them.
Another important value of newspapers is their role in shaping public opinion. By reporting on issues and events, newspapers can influence how people think and feel about different topics. This is particularly important in a democratic society where people need to have access to accurate information to make informed decisions about their lives. For instance, newspapers can expose corruption and hold government officials accountable for their actions, which can help promote transparency and accountability in government.
Finally, newspapers have value in promoting democracy. By providing a platform for diverse opinions and ideas, newspapers can foster debate and discussion about important issues. This is critical in a democratic society where people need to have access to multiple perspectives to make informed decisions. Moreover, newspapers can act as a watchdog on government and other institutions, exposing abuses of power and advocating for social justice.
In conclusion, newspapers have multiple values and play a vital role in our society. They educate and inform, shape public opinion, and promote democracy. While the rise of digital media has challenged the newspaper industry, the value of newspapers remains as important as ever.