SEO (Search engine optimization) has been around for almost as long as the internet has been public. Since the first day, companies, organizations, and firms using it to increase the traffic on their websites, for brand awareness, to reach new audiences, and to increase sales.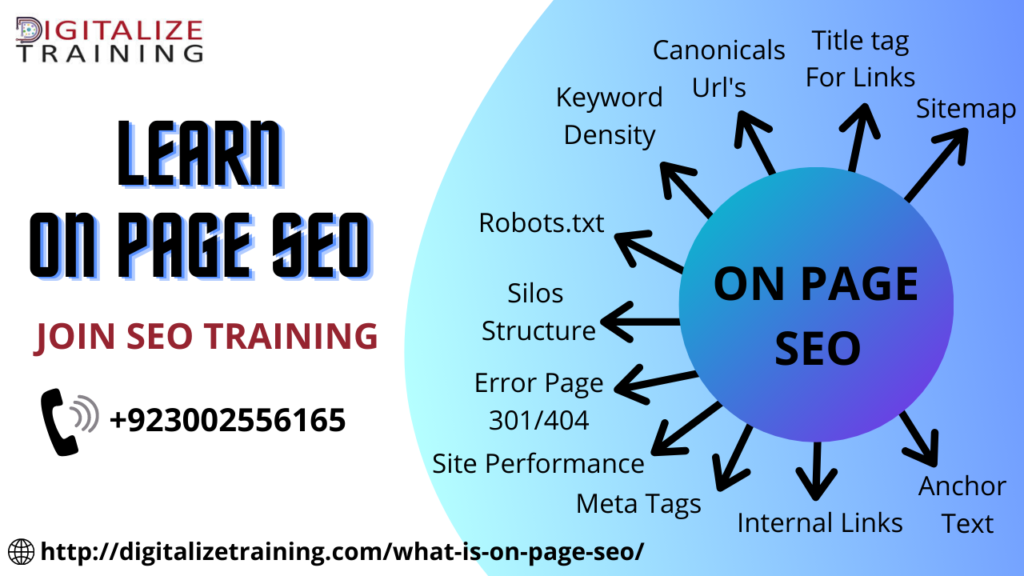 But SEO has changed with the time, initially, SEO used to place as many keywords as possible in content and fill pages with backlinks, but now as SEO is need of every business and highly in demand, so now SEO experts use both on-page and off-page SEO approach to rank a website on the top of SERP (search engine result page).
So today we discuss what is on-page SEO? How SEO experts use it for website optimization.
Understanding On-Page SEO
On-page SEO includes the entire onsite techniques that you can apply to increase the website ranking on a SERP, and it can also determine how well that page ranks. On-page SEO required both techniques, Content optimization
and technical strategies to improve the quality of the webpage, so the more optimized on-page the more quality traffic you get.
There are multiple technical aspects used to optimize a website with on-page SEO, and they include:
Title Tag
Meta Descriptions
Keywords
Headings
URL Structure
Images (Alt Tags)
Site Speed
Interlinking
Mobile-Friendly (Responsive Website)
And many more
Best Practices for On-Page SEO
Title Tags: Title tags are HTML elements that specify the title of a website and display with a blue color clickable headline on SERP (search engine result page). Each page title tag should be unique, attractive and describe what the page is about. You can optimize it by using the main keywords of the specific page within 60 character length.
Headings: Headings are the titles present on the head of the page and between the paragraphs, and these should be in the H1 tag for the best result. Heading should be a focus on relevant and descriptive words, and you can optimize them with the main keywords. To divide content, you can use subheading also (from H2 to H6).
URL Structure: The URL structure is also important for SEO, as search engines consider the keyword more important as it is present in the URL. For example https://digitalizetraining.com/seo-training
Image Alt Tag: Alt tag used to provide search engines more information about the images and users can't see it. Alt tag should be specific and descriptive within 125 characters.
Page Load: Page load speed is an important factor because no one likes slow-loading pages and it has a high bounce rate. According to the survey, 47% of users wait to 3 sec to load a page. Not only for users but search engines also don't link slow-loading pages and give them lower ranking. So make sure that your website pages load fast.
Interlinking: Interlinking helps your site pages to link with another's pages of your site. Interlinking is important because it helps visitors to navigate on the main page and help search engines to understand your site and improve its ranking.
Meta Description: The meta description is the summary of the page and the user can see it on the SERP. The meta description should me appeal full and attractive that force user to click on your website from SERP. The length of the meta description should be lesser the 160 words.
Mobile-Friendly Website: A mobile-friendly/Responsive website is one of the main factors that search engines consider while ranking a website. A responsive website is a website that displays properly in any size of the screen (mobile, tablets, desktop).
Keywords: Keyword is the main component for on-page SEO because it will give you the right direction that what your page is about and how to optimize it on what keywords. Keyword selection on every page must require research and analysis. Try to use keywords on your page content as well.
On-Page SEO and its Impact of Content
Content is the most crucial element of on-page SEO because it attracts the users as well as tell the search engine what the page is about and on what quires display it on SERP (search engine result page)
However, now visitors need relevant, informative, interesting content, so below are some ways in which you can fulfill the user's need and improve your website ranking.
Blogs
Videos
Infographics
Podcasts
Whitepapers
Ebooks
Interviews
Case studies
Original research
Reviews
Instructional articles
Quizzes and poles
to learn On-Page SEO in detail join SEO Training now