Search engine optimization (SEO) is collecting strategies, techniques, and logic used to increase the number of quality visitors to a website by achieving the rank website on Google or different search engines. The main feature of SEO is to optimize your website for users and search engine bots.
SEO tells search engine bots what the specific page is about and how it is useful for users. Nowadays millions of websites exist with a lot of competition so it's important to obtain a higher ranking on search engine result pages (SERPs) and the higher ranking comes with brilliant SEO strategies and techniques. In this blog, you will get an idea of how to rank a website on the top ranking.
There are two types of SEO.

On-page SEO
On-page is the process of optimizing individual pages of your website to earn a higher ranking on SERP and drive more traffic to it, Below are some tips for on-page optimization:
1. Title tags should contain your target keyword:
Your website may have a top ranking on the Google search page with a specific keyword, driving many visitors to your website. But an irrelevant or inappropriate keyword may decrease your website ranking or there is a possibility that your website will vanish from the search engine
The title of the page defines its summary, and an optimized title holds greater weight with the aspect of Google as well as the visitors. Normally, the main keyword is placed at the beginning of the title to attract users and to tell the search engine what this page is about. As you can see most websites place their main keyword at the start of the title, it is not mandatory but it is a best practice.
2. Drop Keyword in first 100 words:
The best practice is to place the keyword within the first 100 words of the content. Some bloggers use this practice, but many bloggers prefer a long intro part before placing the keyword. This is the incorrect way because Google will not consider that keyword important anymore.
3. Use Outbound Links:
Outbound links are very important for any website. It brings traffic to your website. You can make internal links, and make sure that you perform interlinking with authentic and relevant page
4. Write click-worthy meta descriptions for each page:
A meta description is the most important element that uses for SEO as well as to attract users from SERP. To gather more traffic on your website, make sure your meta description is informative and attractive. The search engine displays meta descriptions to 150-160 words so try not to exceed it.
5. Put your target keyword in the URL:
keywords are the backbone of on-page SEO. so you have to pay more attention to them – Try to include your webpage's main keyword in its URL. There is no reason to not use it in the URL. But there are many benefits to including it. By this tactic, you are telling Google that this phrase/keyword is more relevant to the following page.
6. Post Long Content:
Research has proved that longer content helps to increase ranking on search engines. On average the word count should be 2000 words for an article and a minimum of 1000 words at least. This trick will surely help you as a result of long-tail traffic which would increase the popularity of your site.
Content with maximum words not only helps you to add more keywords but also gives complete information that attracts the readers. The accuracy of the post increases with the longer text, which means Google will consider it more relevant as compared with shorter and brief text. As search patterns are identified with long-tail keywords, a longer text also increases the chances of your article/blog/website getting a higher ranking than others.
While writing an article by which you want to attract users and drive more traffic to your page, remember to do research and read about it from different sources before starting to write on it. make sure that all your concepts are clear then you can write a complete article with relevant information. Also, silly spelling mistakes or grammatical mistakes are not accepted. Try to recheck it multiple times before uploading it.
7. Interlinking is beneficial:
Internal linking is an important factor of on-page SEO- as it decreases the website bounce rate and connects different pages. It also increases the link juice that increases the traffic on the website as well as the ranking.
8. Image Optimization:
Try to upload content with images, as it attracts users. Also, provide the name & alt tag of an image the same as the targeted keyword. It will help you authentically optimize the page and a clear picture indicates to search engines the relevancy of your blog/page. Optimized images with proper page, description, and alt tag can help your page to increase the ranking as well as an image that can also get a higher rank in Search engine image search.
9. Target low competitive keywords – longtail keywords:
Long-tail keywords usually are low competitive keywords because they are more specific and longer than a normal keyword – For Example "SEO Course in Karachi"
Long-tail keywords get less search traffic, but will usually have a higher conversion value, as they focus on a more specific product.
Tip:
If you have a new website and just started your SEO campaign, then we recommend you concentrate on long-tail keywords.
Reason:
The fact is you can't rank your website on a single-word keyword so quickly. Trying to optimize your new blog to ranking for "SEO" is quite impossible in a short period.
10. Use LSI keywords in your body content:
Latent semantic indexing (LSI) keywords are the synonyms and variations of your main keywords. LSI can be in the form of words and phrases.
You can find LSI by writing any keyword in the search engine search bar. For Example, if your main keyword is "SEO training in Karachi" Search this keyword and scroll down to the "Searches related to……" display queries are the LSI.
11. Ensure your site is super fast:
A slow website is not only bad for the user but for the search engine also, thus a slow website may cause your site to rank lower in 'SERP'.
12. Your website must be mobile-friendly:
Mobile-friendly, responsive, mobile websites all are the same. This means the website should be properly displayed on any screen size cell phone, tablet, or desktop. According to Google's algorithm, a responsive website plays an important role in your website ranking.
Off-page SEO
Off-page SEO refers to the strategies and techniques that work outside of the website. People say off-page is only linking buildings, but it is more than that. Following are the tips related to off-page SEO
13. Build high-quality backlinks only:
Link building is the most important & most challenging factor in SEO. Without any high-quality backlinks, your website will not rank on highly competitive, or high-traffic keywords.
The website which has more quality backlinks will get a higher ranking. But now the questionaries how you will get those quality backlinks? Below we share one of our strategies to get the high-quality backlinks
14. Guestographics method:
Guestographics is a technique that uses infographics, in this technique, you can ask them to publish your data on their website, and in exchange, they will get unique content.
The complete steps are:
Step 1: Publish an infographic on your site
Step 2: Find sites that write about the same as your infographic's topic
Step 3: Show them your infographic
Step 4: Offer them unique content
Step 5: Get your contextual backlinks in return
15. Guest post on relevant blogs
We all are aware of the benefits of guest blogging:
You drop backlinks on the authority site
Visitors consider you an expert
More targeted traffic drives on your website
Ways to perform blog posting:
a. Find a blog that allows guests to post on it via Google search strings:
below are a few search strings:
– write to us about "your topic."
– your keyword + "guest post by."
Suppose your topic is Digital marketing. Go to Google.com and search for "Digital marketing" +"guest post by"
Further, you can also use reverse image search on Google, or use Twitter & google to find the more relevant post. Or check alltop.com (here you will get a complete list of blogs present on the net)
b. Exploring your target bloggers is important, to separate the winners from the losers and build relationships with them by engaging on social media or via emails.
c. Find a relevant and appropriate topic to write a guest post, For example, a car-related post on a student's blog site is inappropriate. So it's important to know what you are dealing with.
d. Develop a great pitch to convince bloggers to allow you to write a guest post for them.
e.The last step is to check and reply to all comments immediately.
15. Answer on Forum:
Are those websites where users post questions and other users can answer them and share their points of view? Remember some forum sites also allow you to submit your website URL with your answer.
16. Blog commenting:
Blog commenting also helps to generate backlinks, which drive traffic to your site. Most blog sites don't allow comments or don't accept a website URL, but this process still helps full. For every blog comment, use unique content and try to leave your website URL as well. This trick will help you to index your website faster and brings referral traffic to your site.
17. Be active on social media
Generally, social media don't help to increase ranking on a search engine but you can improve your site/brand popularity and traffic by being active on different social media like Facebook, Twitter, Linkedin, and Instagram.
18. Promote your new blog
Promoting a blog is important to let people know about its existence and to drive traffic. The more you promote the more chances you will get to rank higher. Once you post your blog try to share it on social media and engage as many people as you can.
19. Stay updated with Google's algorithm
Google updates its algorithm frequently. To rank your website at the top you should know about the algorithm and its rules.
20. Follow Google's guidelines
Google is very strict when it's come about to following its rules and guidelines- Google gives different penalties to those who don't follow their rule and guideline. As a result of these penalties, your website may disappear from Google completely – so follow its guidelines and work accordingly.
Common Mistakes Usually Done by SEO Experts
Mention points are based on our personal experiences and we hope it will also help SEOs. Always stay away from these SEO Mistakes.
These are the 10 most common mistakes sometimes usually done by Expert and Professional SEO.

01 – SEO Mistake is "Irrelevant or Wrong Keywords Targeting"
Keyword Research is the essential and top important part of any SEO campaign, all of your SEO efforts are useless and you will fail at the end if do not target the Right Keywords for your Website, many SEO Experts make this mistake commonly. Any SEO must do the proper Keywords Research to choose the right keywords for their SEO Campaign – Pro SEO Tip: Your Selected Keywords must be relevant to your Website and its Niche.
02 – SEO Mistake is "Do not take into account the value of the Title of your Webpage"
Normally it seems that many SEOs ignore the value of Webpage Titles, you must understand clearly that your Webpage Title is the piece of your Page that a search engine crawler cinch when the crawler or bot visits your Webpage. Some SEOs often make this foolish mistake they leave their Title tags blank. It also seemed that some SEOs use the same Page Title for multiple Webpages of their Websites – Pro SEO Tip: Always place your most important keywords near the beginning of your Webpage titles.
03 – SEO Mistake is "Webpages with little to no Textual Content"
Did you know what's happened when you publish a Webpage with little or no content? The right answer is "Nothing" On the other hand if you place good and long user-friendly informational text-based content on the Webpages, Google and all other Search Engines will love your Webpages and your Webpages gets start high Ranking as competed to the Webpages with little to no textual content.
04 – SEO Mistake is "Irrelevant / Unrelated Content"
According to SEO standards, it's better to leave a Webpage blank (without text) instead of putting Irrelevant or wrong content/information on your Webpage because the Search Engine pays no attention and ignores the Webpages which contain wrong information.
05 – SEO Mistake is "Using of Flash files in an alternative of HTML"
Due to the fancy look and feel and interactive animation, many people on the Internet love Flash-based websites, but the main Search Engines like Google and Bing don't like Flash-based Websites because their Crawler or Bots can't read the information which Flash Files and Images consist. If you must require using Flash Files always create an alternate HTML version of the files for Search Engine.
06 – The SEO Mistake is "JavaScript-based Menus and Navigations"
Similar to Flash which I mention above Search Engines also do not read JavaScript, the easiest way to solve this kind of crawling problem is to create a proper Sitemap.html and link it from the Home Page as well as the footer of your website or put the links in No-Script tags
07 – The SEO Mistake is "Link Submission / Link building on Irrelevant Websites"
This is a deadly Link building mistake that many SEO Experts have done submitting their Website links to Irrelevant Websites and low-quality Directories only to increase the quantity of Backlinks, According to Google and all other big Search Engines it is called "Backlink Spamming" you could not acquire good ranking or lose your current ranking and PageRank with the practice of these types of a Black hat & Spammy Tricks. Some Search Engines especially Google will also Blacklist your Website if they caught you practicing these types of Spam Backlink Building Techniques.
08 – SEO Mistake is "Keyword Stuffing / Keywords Spamming"
According to Search Engines and good SEO practices using too many keywords too many times on a Webpage is a bad practice, some years ago SEO Professionals were uses these types of false/spamming tactics to cheat Search Engine, but today's Search Engines are smart enough so if you try to do these types of spammy keyword stuffing tricks for the sake of ranking, Search Engines Especially Google will kick out you from their SERPs (Search Engine Result Pages) – Pro SEO Tip: Always Write Researched and detailed informational content that can fulfill your readers/users desires as well as Search Engines.
09 – SEO Mistake is "Bad URL Format / Bad Link Structure"
There is the main difference between Good and Bad URL / Link Structure but too many SEO don't realize this important factor. There is no doubt that with the dynamic URL structure, you may acquire some good ranking. But various research proved that placing a keyword in the URLs gives your page a quick ranking boost in competition to your competitors. – Pro SEO Tip: Always try to include your keywords in your URLs".
10 – The SEO Mistake is "Avoid Blogging"
If you are not utilizing the power of Blogging then it's a mistake, you may have to make a KPI list create Topics for Blog posts and write Blogs on various relevant topics including Keywords and Topics in it and Link your Relevant Page from the Blog post with appropriate Anchor text to drive traffic of your desired Webpage, it will give you two benefits 1st it increases the number of traffic on various keywords and 2nd it transfers the internal Link juice.
All-time best SEO Tricks and Techniques
Would you like to get listed on your website on the 1st page of the search engine?
Here below are the 15 all-time best & handy SEO Tips
All the fundamental Search Engine Optimization guidelines and primary SEO Tricks which can facilitate you to get High Ranking in SERPs as well as a good Return on Investment (ROI).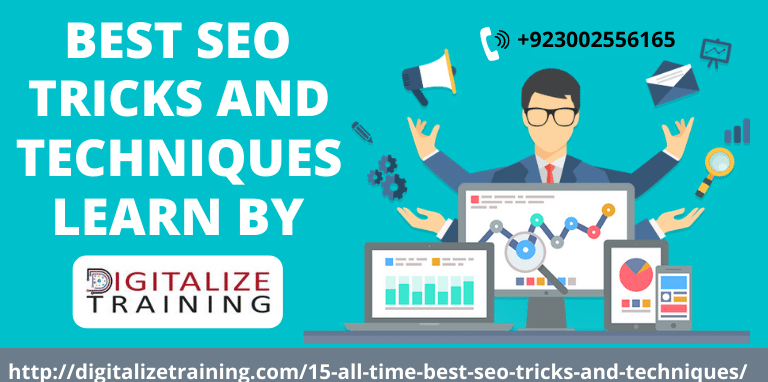 1st – You read this phrase many times in SEO Forums and Blogs "Content is King in Search Engine Optimization" Yeah this is right. Always create unique Quality Content instead of duplicating or copying someone's content. All Search Engines especially Google dislike web pages and websites that have duplicate or copied content. No matter if they found the duplication on multiple pages of the same website.
2nd – Always keep your focus on Quality instead of Quantity no matter if you are working at a slow pace but, surely, you will get the favorite ranking in SERPs if you follow this quality guideline of Search Engine. Never get backlinks from low-quality / bad resources always focus on quality and relevance.
3rd – Keep the Design of your website according to your selected market/users and provide your users with a good user experience. So in the Design phase of your website, you don't only focus on the Bots of Search Engines.
4th – Because Google has a large share of online Traffic so keeping your focus on Google first is a good practice but don't neglect other Search Engines also like Bing, Yahoo, and the regional Search Engine also if you are targeting a specific region like you must focus Yandex if you are targeting the Chinese market.
5th – Always be consistent in your work no matter that you get a high ranking in SERPs, because your competitors are working consistently to beat you in the race of SERPs Ranking.
6th – Alas it's outdated when Webmasters and SEOs can cheat Search Engines and get High Rankings! Today's Search Engines are very intelligent and smart enough to identify the spam and punish sites that are using black hat tricks and techniques to trick Search Engines.
7th – Do not pass over the value which you can get from Social Media Websites. Always comprise Social Media Marketing and Social Media Optimization in any of your Digital Marketing Promotional Campaigns.
8th – Build Links for your Website from High Authority, Good & Relevant free of spam blogs and websites. When you build a good link profile for your Website by getting Links from good and relevant websites it will eventually increase your PageRank!
9th – Give your Website the juice of Internal Linking with the Anchor texts that are most relevant and Descriptive enough.
10th – Consistently utilize Google free resources like Google Places, Google Business & Google Maps, etc to get free regional local traffic to your website.
11th – It's a Google Ranking factor to optimize your Websites for Mobile phones first because a large number of smartphone users use the Google Search Engine to research on a daily basis and your Website displays correctly on Smart Phones just as Desktop users.
12th – As I mentioned earlier always write your own original & unique content, in case you are copying someone's content it's necessary to mention the detail of the original source in your content.
13th – Regularly use Headers tags when writing Heading in your Content and remember to keep the limit of Header Tags under the 4 Headers.
14th – Implement / Connect Google's Webmaster Tools also named (GSC) Google Search Console to monitor the performance of your Website as well as Ranking.
15th – Always Check Google Webmaster Tool / GSC daily to check backlinks count, and fix broken links and other on-page errors on your website.