FUTURE OF SEO IN PAKISTAN
Search engines are the best and easiest way to find something on the internet. To get a higher ranking of a website in search engine result page search engine optimization (SEO) technique is used. SEO is a technique used to get a higher ranking and increase of organic traffic on the website. In other words, SEO is used to increase the website's visibility on search engines. Google is one of the most used and popular search engines all over the world. Therefore, most of the SEO in Pakistan focuses on the Google search engine to achieve a higher ranking. If the website is not getting organic traffic from Google it means that the website is not properly optimized, that's why the website owners need an SEO expert who can drive more traffic on the website. With the increase in demand and Knowledge, The demand for SEO Experts in Pakistan is increasing day by day.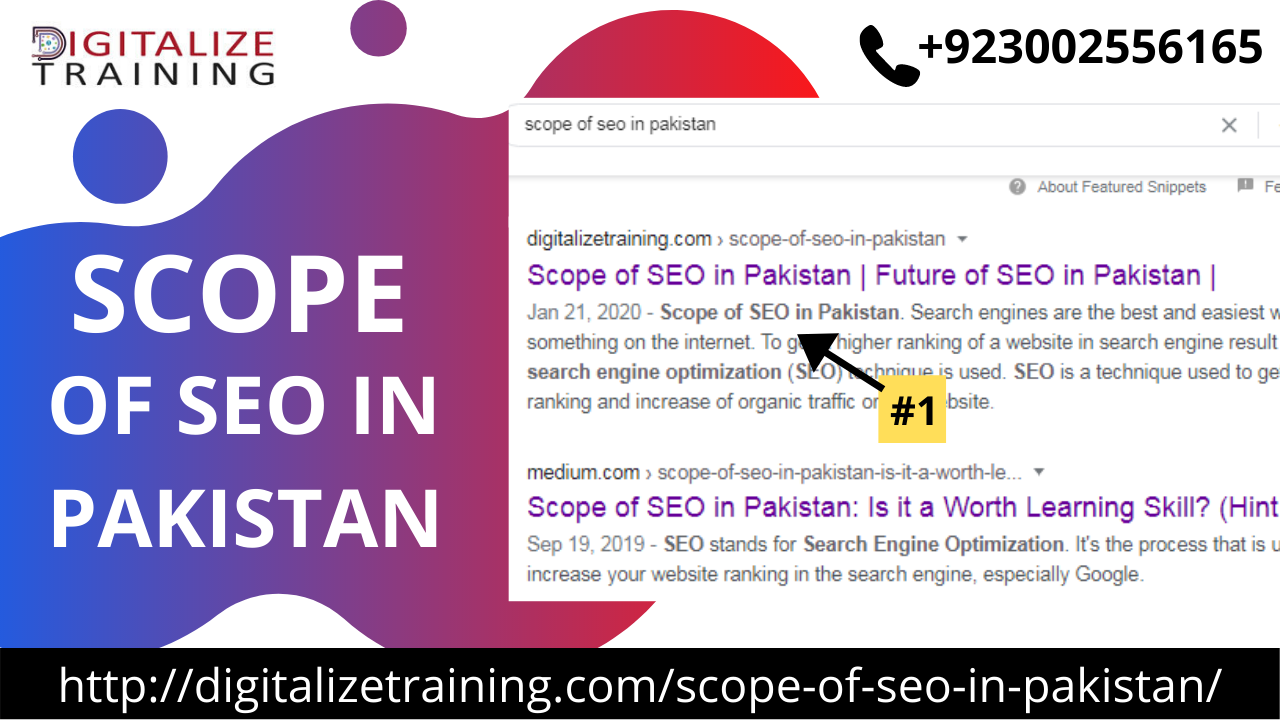 Although SEO plays a very crucial role in expanding website traffic and popularity, most of the website developers and content writers optimized their websites in the wrong way. For example, when a specific keyword is typed by an individual on the search engine search bar, many sites result found, which have little or no connection with the query that is searched. This is because many sites contain those keywords which are not related to the content on their website. These keywords are present in the website content are also in Meta tags. This makes it easier for them to get a high ranking on the search engines but makes it difficult for many searchers to locate the information they required. This is generally referred to as "spam" or "black hat "SEO" technique. As an SEO expert, it is necessary to know how to drive quality traffic to the site in the right way, and in Pakistan, expert SEO's have a good understanding and knowledge regarding this.
SEO Future in Pakistan
Nowadays, many website owners are taking interest in search engine marketing, due to increased knowledge and awareness about the benefits of SEO. In the increase in SEO demands many individuals also want to pursue their careers in the digital marketing field. Therefore, in good future of SEO can be seen in Pakistan.
Furthermore, the importance of website marketing is being focused by the new web developers and designers as they know the importance of SEO for a website and a business. Thus, the increase in online business and their websites has increased the demand for SEO and Pakistan has started incorporating this benefit in their web developments as well.
Why SEO Seems to Have a Good Future in Pakistan?
The main reason for the good future for SEO in Pakistan is its cost, as it is quite cheap for international companies to get the SEO work done from Pakistan freelancers or companies, as compared to western countries. This is the reason due to which most of the countries like USA, UK, Australia, and others, are outsourcing their work and giving their project in Pakistan.
The SEO profession in Pakistan is also increasing because they have a good income as compare to other professions in Pakistan IT industries. Pay for SEO Expect in Pakistan varies from Rs. 50,000 to 150,000 or more depending on their expertise and experience. The most important thing that western companies are outsourcing their project in huge quantities to Pakistani companies and freelancer SEO specialists to avail their expertise and techniques and be benefited at a very nominal rate as compared to their countries.
Scope of SEO in Pakistan
In today's digital world, the role of Search Engine Optimization (SEO) is increasing significantly across Pakistan especially in Karachi, Lahore, Islamabad & Faisalabad. Search Engines are becoming a basic way of searching the products, services or information on the Internet. According to research, about 80% of internet traffic is generated through search engines. Approximately 75% of the users open the websites present on the 1st result page of the search results and only about 20% of the check 2nd page of the search result.
We all have seen it that many physical businesses are moving towards online businesses, which means the internet marketing scope in increasing, At the start of 2000 decade, limited companies know about SEO & SEM but now in 2020 there are thousands of companies providing you SEO services. Now Search Engine Marketing becomes the main department for all software houses, IT companies, firms because now everyone wants to promote their own business in all major search engine and internet areas. Thousands of SEO, SEM, and Link Building jobs opportunity available in Karachi, Lahore & Islamabad.
Search Engine Optimization (SEO) has bright and huge scope & future in Pakistan and all SEO Companies in Pakistan have a separate department for digital marketing that includes, Search engine optimization experts, Linking Experts, SEO Content Writers, Designers, Google Ads Expert, Social media marketers, and Search Engine friendly website
Most Search Engine marketing companies & software houses in Pakistan working on both On-Site and Off-site search engine optimization.
You build your career as an SEO expert Join SEO Training Now