Introduction to SEO
SEO stands for Search Engine Optimization. SEO is the process of optimizing your website in order to get search engines higher and more organic ranking.
SEO is all about you, the search engine, and the searcher. SEO is some sort of magic you have to work on your article in order to make Google very likely to include your post as one of the top results whenever someone searches for that keyword.
For each keyword the researcher enters into the search engine, the search engine has built up a full index, ranked by order of relevance to the search. Thus, when the user enters a search query, the search engine works rapidly across its index and delivers the result immediately.
Why SEO is Important?
Search engines are the best and easiest way to find something on the internet. To get a higher ranking for a website in search engine result page search engine optimization (SEO) technique is used. SEO is a technique used to get a higher ranking and increase organic traffic on the website. In other words, SEO is used to increase the website's visibility on search engines. Google is one of the most used and popular search engines all over the world. Therefore, most of the SEO in Pakistan focuses on the Google search engine to achieve a higher ranking. If the website is not getting organic traffic from Google it means that the website is not properly optimized, that's why the website owners need an SEO expert who can drive more traffic to the website. With the increase in demand and Knowledge, The demand for SEO Experts in Pakistan is increasing day by day.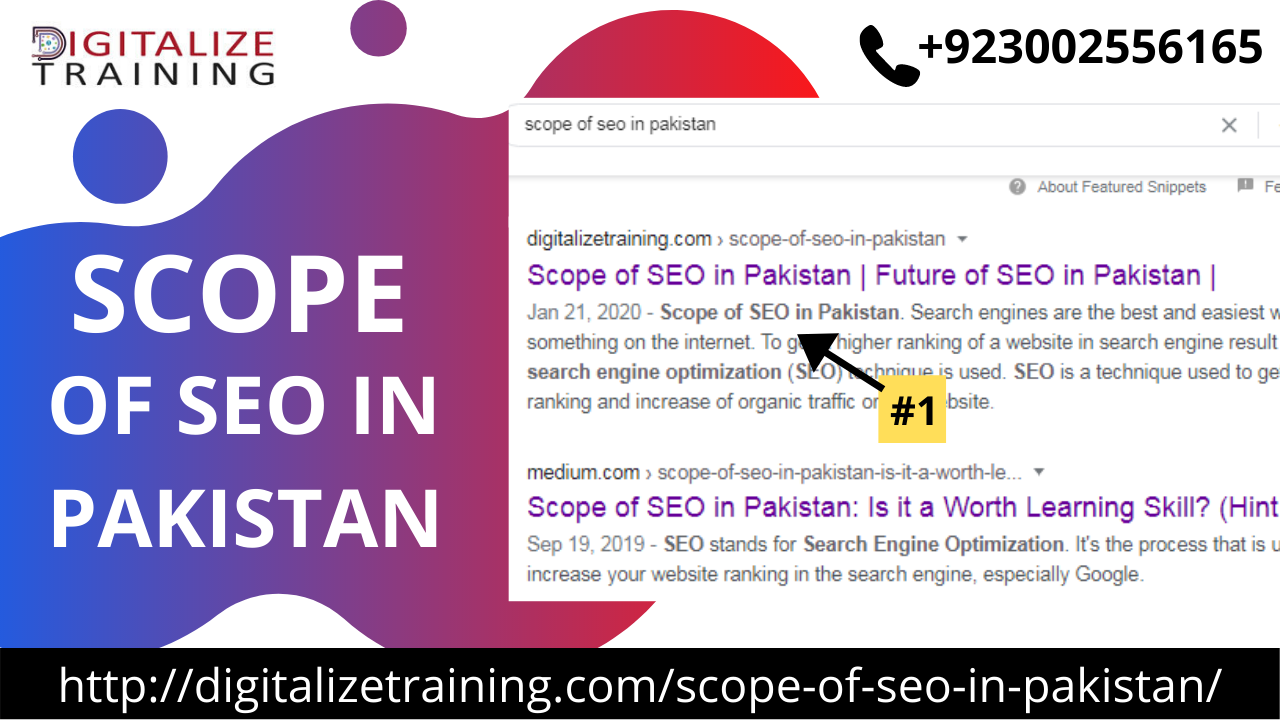 Although SEO plays a very crucial role in expanding website traffic and popularity, most website developers and content writers optimized their websites in the wrong way. For example, when a specific keyword is typed by an individual on the search engine search bar, many sites result are found, which have little or no connection with the query that is searched. This is because many sites contain those keywords which are not related to the content on their website. These keywords are present in the website content and are also in Meta tags. This makes it easier for them to get a high ranking on the search engines but makes it difficult for many searchers to locate the information they required. This is generally referred to as the "spam" or "black hat "SEO" technique. As an SEO expert, it is necessary to know how to drive quality traffic to the site in the right way, and in Pakistan, expert SEOs have a good understanding and knowledge regarding this.
Furthermore, it is seen that most of the users on search engines are mainly focused on organic results. Hence, we can easily understand that SEO companies would be adopting this strategy for their client's businesses. So SEO's demand is increasing day by day and its trend took place in previous years. As we all know pandemic started in 2020, it played a huge role in converting people from the physical world to the digital world. In Pakistan, online businesses got a boost, and businesses got increased in 2020. Most restaurants started taking orders online, almost all the small businesses and shop owner sold their products online through social media and websites, and many well-known brands got converted online. People started selling their products and generating revenue and got an upstanding response. Then everyone showed their interest in making websites and started SEO of their pages/websites just to stay on top and target audience organically and to earn more revenue. This pandemic expanded online business and gave rise to digital marketing.
Scope of SEO in Pakistan
The role of Search Engine Optimization (SEO) is increasing significantly in Pakistan, with many website owners and developers recognizing the benefits of SEO for their businesses. In fact, Pakistan has started incorporating the benefits of SEO in its web development strategies, and new web developers and designers are focusing on the importance of website marketing. As a result, the demand for SEO in Pakistan has increased, creating many opportunities for individuals who want to pursue a career in digital marketing.
Search engines have become a fundamental way of searching for products, services, or information on the internet. According to research, about 80% of internet traffic is generated through search engines, and approximately 75% of users open websites present on the first page of search results. With more physical businesses moving towards online businesses, the scope of Internet marketing is increasing, leading to thousands of companies providing SEO services in Pakistan. Many software houses, IT companies, and firms have also started incorporating SEO and SEM departments as everyone wants to promote their business on major search engines and internet areas.
In Pakistan, there are thousands of job opportunities available in SEO, SEM, and Link Building in Karachi, Lahore & Islamabad. Most Search Engine Marketing companies and software houses in Pakistan work on both On-Site and Off-site search engine optimization. They have a separate department for digital marketing that includes Search engine optimization experts, Linking Experts, SEO Content Writers, Designers, Google Ads experts, Social media marketers, and Search Engine-friendly website experts.
Why SEO Seems to Have a Good Future in Pakistan?
The main reason for the good future of SEO in Pakistan is its cost, as it is quite cheap for international companies to get the SEO work done by Pakistan freelancers or companies, as compared to Western countries. This is the reason why most of the countries like the USA, the UK, Australia, and others, are outsourcing their work and giving their project in Pakistan.
The SEO profession in Pakistan is also increasing because they have a good income as compared to other professions in Pakistan's IT industries. Pay for SEO Expect in Pakistan varies from Rs. 50,000 to 150,000 or more depending on their expertise and experience. The most important thing is that Western companies are outsourcing their project in huge quantities to Pakistani companies and freelancer SEO specialists to avail their expertise and techniques and be benefited at a very nominal rate as compared to their countries.
Make a career in SEO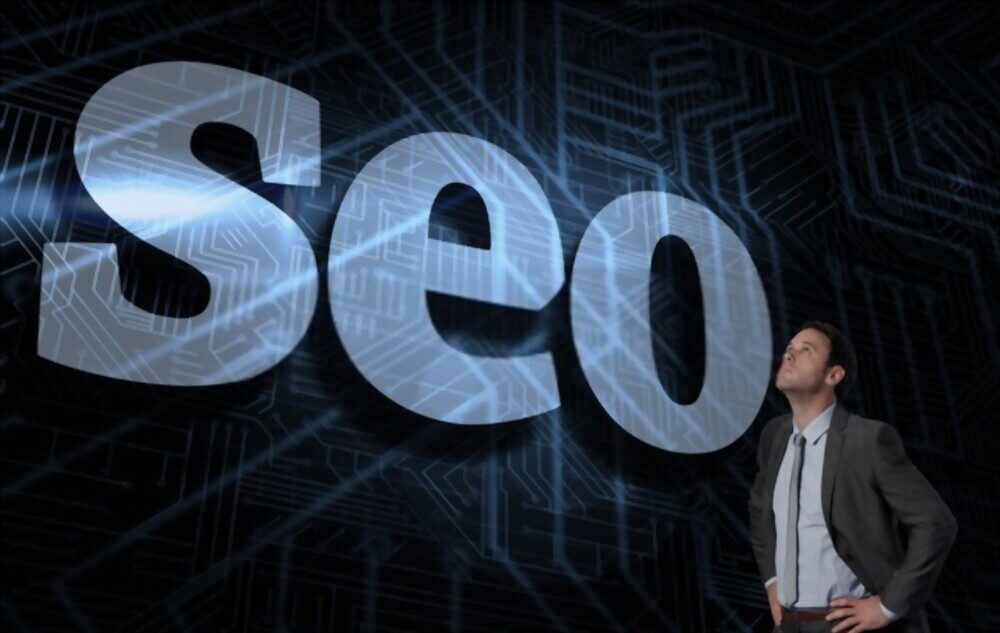 If you would like to make a career in SEO, there are a number of factors to consider in addition to getting the right training.
The role of professional referencing is not only to apply in practice the theories learned through a course, but is much more than this.
The path to starting a successful career in SEO and follow to get a job in digital marketing can be summarized into the following steps:
1. Build up your SEO skills:
Before you even think about applying for a job related to SEO, you need to make sure you have the required SEO knowledge. You should be familiar with a search engine, how it works, and how to optimize any website. You should also know the difference between On-Page SEO and Off-Page SEO. Make sure you know all the basic terminologies of SEO.
2. Improve your writing skills:
One of the most common SEO tasks is optimizing the page title, meta description, title, and content of a page. You will find it difficult if your writing skills are not good. Also, you should be able to write multiple blogs about your websites.
3. Acquire basic development skills:
You don't necessarily have to be a developer to become an SEO but you should have some basic development skills. You should be able to understand HTML code, know how a website is structured, and understand a few things about JavaScript in the web development process.
You need to have the ability to work with popular CMS like WordPress to edit the titles and descriptions of a page as well as other SEO-related settings (permalinks, comment settings, sitemaps, etc.).
One of your many job responsibilities will include guiding developers to make SEO-related changes to your website.
4. Build up your Analytical Skills:
For any SEO-related work, you will have to prepare reports for your boss or your client. A good SEO report provides all the information from different sources like Google search console, Google Analytics, and SEMRUSH.
It is important that you have the necessary skills to interpret, read and present this information in a meaningful format. You should know how to use tools like Excel and Google Sheets.
5. Learn how to use SEO tools:
The right SEO tools can make your work easier, provided that you know how to use them correctly.
Besides being familiar with the absolute basics (Google Analytics and Google search console), you also need to learn how to use and configure other SEO tools like Yoast SEO, SEMRUSH, Chrome Developer Tools, etc.
6. Become an expert in Google Webmaster Guidelines:
Google has multiple rules, known as the Google Webmaster Guidelines. In this document, they explain everything you should know about their rules and quality standards.
SEO can sometimes be tricky and if you are not aware of Google guidelines, you may do something that can get your website penalized and this means lower rankings and less traffic.
7. Get practical, and build your SEO experience:
With or without a formal education or an SEO certificate, in order to become a successful SEO expert, you need to practice SEO and prove to your future employers and clients that you can improve the rankings of their websites in the SERPS.
A company or SEO agency will hire you not because of your qualifications but for your experience and skills to increase their rankings, giving them more customers and organic traffic.
The best way to build your SEO experience and learn SEO is to practice SEO yourself. If you don't have a website, then do keyword research and start a website as possible.
8. Get your first client:
In order to achieve this step, go to job portals like Fiverr, Upwork, and PeoplePerHour and register for a freelancer account.
These portals have thousands of SEO jobs listed on a daily basis. Keep your prices low to secure a couple of clients.
Remember your goal at this stage is not to work as an SEO freelancer, but to gain working experience and get ready for multiple job interviews.
9. Prepare for the SEO interview:
Once you have your SEO skills built up and some working experience, the next step is to prepare for the SEO interview. Tell them about your experience and show them what you're capable of.
How Can I Start My Career in SEO After Intermediate in Pakistan?
Digital marketing conception has increased up fast rapidly in the last 5 to 7 years. It is a new way of doing marketing which opens the way for those who hate traditional marketing concepts like sales, door-to-door marketing, etc.
Digital marketing is the big pool where you have a lot of choices for your career like SEO, PPC, Content writer, SMO, SMM, SME, and Internet marketing. Digital marketing is the big place where you can do creativity in SEO strategies, content writing & online marketing.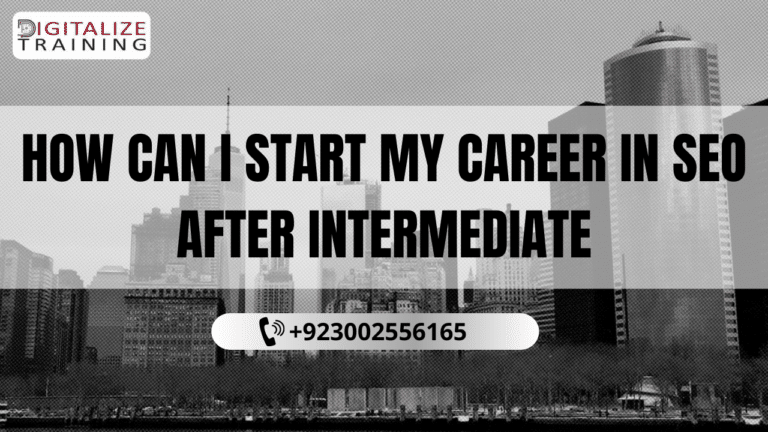 If you enter into the digital marketing world, (Search engine optimization) SEO is a good career after intermediate where you learn how Google search engine's algorithm works, how the search engine results appear when you search for something ABC, etc. Now coming to the point of your question.
To start your career in SEO you need to read books on Different websites which are related to SEO guides, learn all Google algorithms like Webmaster, Ad Sense, Analytics, Adwords, Digital Unlocked, Hummingbird, and Panda, etc. or the best way is to join SEO Training from a well-known institute.
You can go for an internship after SEO Training and get a job in a digital marketing company. Here you'll get better knowledge and insights into Search engine optimization. You can opt for a digital marketing course but you need to spend some money on fees you need to be updated for Google's new algorithms, and SEO tools updates. Also, you need to find out different strategies for SEO to increase your website which helps you to get a good result as compared to your competitors.
SEO is the career chosen after intermediate and has a bright future ahead as the internet grows up… Hope it might help you to a successful SEO Career. If you want to learn SEO Technical training you need to Join the Search Engine Optimization Course, after training you will pursue your career in SEO.
Why Choose Us?
In our SEO Training Course, you will be trained on how to optimize your website content, images, on-page, off-page, and other aspects to get your website keywords rank on Search Engines like Google, Bing, and Yahoo. Besides this, you'll learn how to bring unpaid traffic to your website and we'll also train you about Google algorithms. Our SEO trainers have years of experience and they will train you on live SEO projects, share their experiences and best techniques that will help you build your career in SEO Field and be an SEO Expert.
Our SEO Training Course outline will cover On-Page, and Off-Page SEO, besides these you will also learn how to optimize the website on local and international markets. After completion of the "SEO Training Course", you will be awarded an SEO Certificate that will help you to find a relevant SEO Job as a permanent, trainee, trainee, or freelancer. This SEO training will cover both categories; Service-based and E-commerce products-based websites.
What We Will Deliver You in This SEO Training Course?
Module #1 – Detail introduction on SEO and Analysis
Module #2 – Keywords Research and Making Theme
Module #3 – SEO On-Page Optimization
Module #4 – SEO Off-Page Optimization and Outbound Link Management